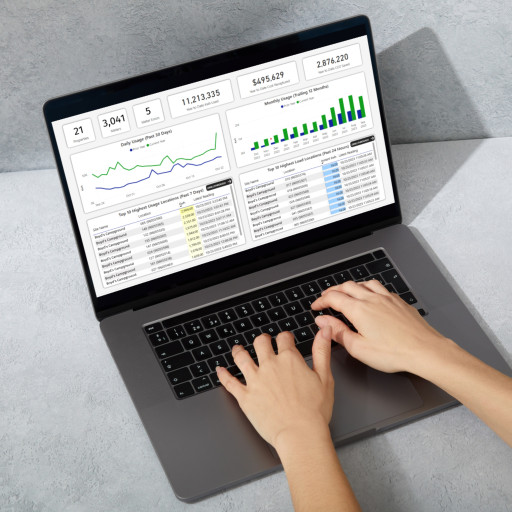 SARASOTA, Fla., October 25, 2023 (Newswire.com) - Wild Energy, the leading provider of advanced utility sub-metering and monitoring solutions, announces the launch of its state-of-the-art Advanced Analytics Platform. This innovative platform utilizes the power of the Microsoft Power BI platform, enabling property owners to access unparalleled insights into energy usage and trends across multiple properties.
The Advanced Analytics Platform is poised to revolutionize the way property owners, from campgrounds to RV parks, manage their utility consumption and make data-driven decisions for enhanced operational efficiency and sustainability.
Key Features of Wild Energy's Advanced Analytics Platform Include:
Data at Your Fingertips: Owners can now access data from multiple properties, all in one centralized location. This makes it effortless to track energy consumption trends and operational performance across various locations.
Drill-Down Capability: The platform allows multi-park operators to drill down into a property and specific areas within a property. Want to explore energy consumption trends at a particular campsite or facility? It's all at your fingertips, providing the granularity needed to make informed decisions.
Ongoing Trend Analysis: With ongoing trend analysis, property owners can identify patterns in energy usage, making it easier to predict future needs and optimize resources effectively.
"Our mission is to provide sophisticated property owners with the tools they need to optimize energy management and reduce operational costs. With the Advanced Analytics Platform, we are taking this mission to the next level. Property owners can now understand their energy usage patterns, spot anomalies, and make decisions that benefit their bottom line and their property," said Mike Sorensen, President, Wild Energy.
The Advanced Analytics Platform is the latest addition to Wild Energy's suite of products, which includes utility smart-metering, an owner portal, guest portal, billing integrations, and more. It's designed to work seamlessly with existing Wild Energy solutions, creating a comprehensive energy management system.
For More Information:
Mike Sorensen
President and CEO
833-563-6300
[email protected]
[email protected]
About Wild Energy
Wild Energy was born out of a necessity to solve the problem of rising costs of energy and water resources while addressing the need for utility conservation. It's innovating new energy monitoring and control solutions for the recreational vehicle industry, campgrounds, marinas, industrial, condo associations and more. For more information, visit www.wildenergyco.com.
Contact Information:
Mike Sorensen
President
[email protected]
(833) 563-6300
Original Source:
Wild Energy Unveils Advanced Analytics Platform, Empowering Property Owners With Deeper Insights