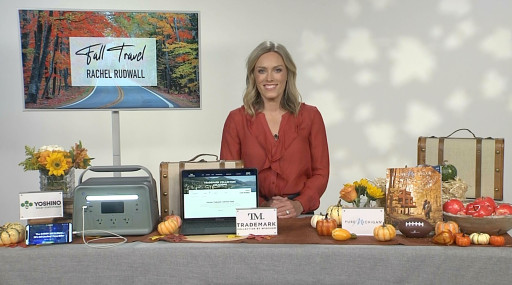 Great Tips on Getaways and Gadgets to Fill Fall with Hassle-Free Adventure
ATLANTA, September 29, 2023 (Newswire.com) - Fall is the perfect time to plan a getaway or vacation, with unique and affordable options unavailable during the crowded summer. With the kids back in school and moderate weather, this time of year is a fantastic, less expensive, and pleasant time to get away. TV host and travel expert Rachel Rudwall has essential travel tips and best-kept secrets for finding terrific deals and destinations. Whether looking for the top places to enjoy fall foliage or a quick beach vacation, here are some easy hacks to save time and money.
MAKE IT EASIER TO TRAVEL
Start with power. Yoshino's innovative technology brings a premium compact portable power solution to everyday life. Easily power activities around the house like outdoor movie night. Take it camping or RVing and power lights and devices, or keep phones, laptops and camera batteries charged during a road trip. Simple to charge, it provides up to 660 watts of power through AC, DC and USB outlets. Also, use Yoshino as a solar generator with the optional solar panels and generate power while camping or off-grid. For more information, visit yoshinopower.com.
A FAVORITE FALL DESTINATION
Michigan is home to two spectacular peninsulas that offer the freshest places to see fall colors. Each fall, the state's 19 million acres of forest come alive with a crescendo of brilliant oranges, yellows and reds, creating the perfect backdrop for a scenic drive, refreshing trail hike, or a visit to an apple orchard or cider mill. Fall also means football season. Check out a college game in towns like Ann Arbor or East Lansing, or head to Ford Field for a pro game in Detroit where the 2024 NFL Draft is being hosted. Plan a trip at www.Michigan.org.
FINDING A GREAT PLACE TO STAY
When looking for a great place to stay, Rachel recommends the Trademark Collection by Wyndham. They have one-of-a-kind hotels in amazing destinations all over the world, plus a number of incredible properties in gaming destinations as part of their partnership with Caesars Entertainment. Think of hotels with luxurious spas, and celebrity chef-inspired dining in cities like Las Vegas, Atlantic City and New Orleans. Best of all, earn Wyndham Rewards points with every stay, getting that much closer to the next free trip! Head over to TrademarkHotels.com for all the details.
About TipsOnTV
TipsOnTV covers a variety of topics, including food, entertaining, personal finance, technology, travel, health, lifestyle and more.
Contact Information:
R E
[email protected]
Original Source:
Travel Expert Rachel Rudwall Shares Why Fall Travel Should Top Every To-Do List on TipsOnTV