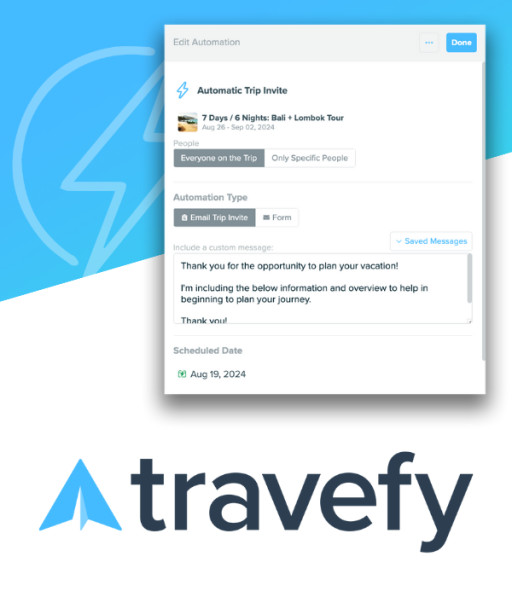 Travefy introduces automations that allow travel professionals to effortlessly streamline their workflows and provide unparalleled client experiences.
LINCOLN, Neb., October 17, 2023 (Newswire.com) - Travefy, a leading innovator in itinerary, proposal and client management tools for travel advisors, announced the launch of its latest game-changing feature: Automated Workflows. This powerful tool sets up travel professionals with next-level efficiency and organization within Travefy's platform, enabling them to provide a seamless experience for their clients.
With the ability to set up automated workflows, users can effortlessly configure and automate the distribution of forms, credit card authorizations, and trip invitations with personalized messages to their clients. This functionality is integrated into Travefy's existing CRM and task management system, providing a solution to set up and save workflows to save and reuse for clients and trips.
This exciting feature marks a leap forward in the travel industry and Travefy's platform, allowing travel advisors to centralize and streamline their business operations effectively. Travefy's platform becomes the nerve center for managing client information, essential updates, reminders, and crucial action items.
"We're committed to continually enhancing the Travefy experience for our users, and the introduction of Automated Workflows is a testament to that commitment," said David Chait, CEO at Travefy. "By automating repetitive tasks and communication, travel advisors can focus more on creating memorable travel experiences for their clients."
Key benefits of Travefy's Automated Workflows include:
Effortless Task Management: Travel advisors can set up automated task lists to handle routine processes, reducing manual effort and potential errors.
Personalized Client Communication: Send tailored trip invite messages and forms automatically, ensuring clients receive timely information and action items.
Centralized Data: Client information, tasks, and reminders are consolidated within Travefy, promoting efficient collaboration with the client and other travel advisor team members.
This feature is part of Travefy's ongoing mission to power the success of travel professionals. Travefy's commitment to tech innovation within the travel industry and the introduction of Automated Workflows represents a step towards simplifying the lives of travel advisors.
To experience the benefits of Travefy's automated workflows firsthand, sign up or log in to your Travefy account today at https://Travefy.com.
About Travefy
Travefy's mission is to power the success of travel professionals. Our award-winning suite of itinerary, proposal, client management, and marketing tools help Travel Advisors and professionals save time, impress clients, and sell more.
Travefy powers thousands of travel businesses across the globe, ranging from small, independent travel advisors to the largest travel agencies, consortia, and organizations. Travefy has been featured in The New York Times, The Wall Street Journal, and Forbes among other publications and has won numerous industry honors, including the ASTA Entrepreneur of the Year Award.
For more information, please see: https://Travefy.com.
Contact Information:
Stephanie Gries
Education Manager & Marketing Coordinator
[email protected]
844-487-2833
Related Files
Travefy Logo.png
Original Source:
Travefy Introduces Automated Workflows to Bring Next-Level Efficiency to All Travel Advisors