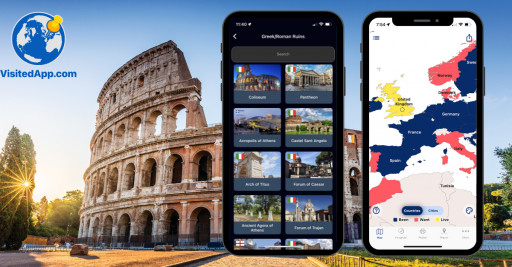 Travel App Visited Compiles Over 1.66 Million Users' Data to Determine the Most Famous Greek and Roman Destinations
TORONTO, May 30, 2023 (Newswire.com) - The travel app Visited by Arriving In High Heels Corporation has released a list of the top 10 Greek and Roman ruins to visit. The data is based on over 1.7 million users who have marked which ancient sites they have been to.
Visited, available on iOS or Android, allows users to mark off where they've been and plan dream getaways based on travel lists, experiences, personalized travel map and inspirational photos. Picking a travel destination just got a lot easier with the Visited app.
According to Visited, the most popular Greek and Roman ruins around the globe are found mostly in Rome, Athens and area. "While it is not surprising that the top list includes sites in Rome and Athens, what was interesting that Bath, England made it to the top 10 list of most visited Greek/Roman ruins, and that Turkey's Ephesus did not," explained the founder of the popular travel app, Anna Kayfitz.
The Coliseum is the top ancient ruin to visit. The Coliseum is the largest ancient amphitheater ever built and was the site of Rome's famed gladiator matches.
Pantheon is a former Roman temple and one of the best-preserved Roman ruins. The site in Rome is the second most visited ruin to visit.
The Acropolis of Athens is an ancient hilltop citadel that includes the Parthenon.
Castel San Angelo also known as the Mausoleum of Hadrian was once the tallest building in Rome and is now a historic museum.
Arch of Titus is the fifth most visited destination on the list. The honorific arch in Rome was built in the 1st century AD.
The Forum of Caesar was built by the Roman leader Julius Caesar in Rome in 46 BC.
Ancient Agora of Athens is an ancient Greek agora - or gathering place - located northwest of the Acropolis.
Forum of Trajan was the last of the Imperial fora - or public meeting places - to be constructed in ancient Rome.
Bath is a site with ancient Roman baths located in Bath, England.
Palatine Hill and Stadium is an open-air museum and the centermost hill of the 7 hills of Rome.
To browse more top travel lists, see the most popular destinations, and create a personalized travel map, users can download Visited on iOS or Android.
Get the full Visited 2022 travel report for more travel stats with the most visited destinations based on U.S. and international travelers. To learn more about the Visited Map App, visit https://visitedapp.com.
About Arriving In High Heels Corporation
Arriving In High Heels Corporation is a mobile app company with apps including Pay Off Debt, X-Walk, and Visited, their most popular app.
Contact Information:
Anna Kayfitz
CEO
[email protected]
Original Source:
Top 10 Most Popular Greek & Roman Ruins According to Visited