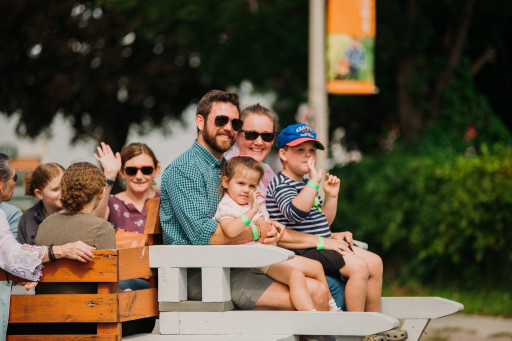 On Saturday, September 3rd Bennington, Vermont will once again transform into "Garlic Town, USA" in celebration of all things garlic and agriculture! Garlic Town, USA, formerly known as the award-winning Southern Vermont Garlic & Herb Festival and produced by the Southwestern Vermont Chamber of Commerce, announced that the downtown festival would return to Bennington on Labor Day Weekend this year.
BENNINGTON, Vt. - August 24, 2022 - (
Newswire.com
)
On Saturday, Sept. 3, Bennington, Vermont will once again transform into "Garlic Town, USA" in celebration of all things garlic and agriculture!
Bennington, Vermont has become world-renowned for its annual garlic events held every year on Labor Day weekend. The town's garlic events have been recognized as one of the top 10 garlic festivals in the world by Reuters, featured in Yankee Magazine, awarded Vermont's Time-Honored Top 10 Fall Event.
Large areas of fenced in property to host the event, or what the organizers call "Cloves," will be located at the former Greenberg Lot located at 321 Main Street (Clove A) and the former Bennington Station at 150 Depot Street (Clove B). The former Tuttle Lot (113 Depot Street) will host tickets and sales, the Garlic Town USA merchandise shop, and volunteer support. Attendees must purchase a ticket in order to enter either Clove all day long. Tickets can be purchased online ahead of time at www.GarlicTownUSA.com.
Always a staple at Garlic Town, USA are the vendors from around the Northeast. This year the Chamber's Event Manager, Mikaela Lewis, says there will be over 125 vendors at the event including over a dozen garlic growers, produce vendors, arts and crafts, and over 20 food trucks and dessert carts.
The event will also welcome back two additions that are sure to please the crowds. Bands and bars. Two stages are set up, one in each Clove, and will have live performances all day alternating on each stage. The Beer and Cocktail Garlic Bar also returns. This year, like many in the past, will have Ramunto's Pizza managing the bar.  
With the amount of attendees planned, organizers have utilized parking lots outside of downtown to manage the amount of travelers coming to Bennington. Patrons of the event are strongly encouraged to park in the Ocean State Job Lot at 99 Bennington Square, Grace Christian School Lot at 104 Kocher Drive, and the State Building and Chamber of Commerce at 100 Veterans Memorial Drive. Transportation to the event will be provided free of charge.
There will be demonstrations throughout the day by chef Cara Thatch, vendors, kids' activities and more. The "Demo Tent" will be located in the center of Clove B (Bennington Station Lot - 150 Depot Street).
The Premier Sponsors this year for the event are Coggins Auto Group and The Bank of Bennington. 
For updated information please visit the new website www.GarlicTownUSA.com
Garlic Town, USA 2022 60 second promotional video: https://youtu.be/70MX_tQuUjM
https://www.facebook.com/SouthernVTGarlicFest
https://www.facebook.com/events/1155099298370408
@garlictownusa
#garlictownusa
Press Release Service by
Newswire.com
Original Source:
Thousands Expected as Bennington, Vermont Transforms Into Garlic Town, USA Labor Day Weekend