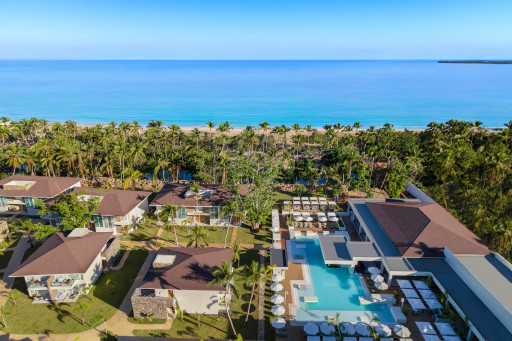 MICHES, Dominican Republic, November 13, 2023 (Newswire.com) - In a strategic move aimed at aligning itself with its sister property in Riviera Maya, Temptation Grand Miches Resort Punta Cana is delighted to announce its new name: Desire Miches Resort Punta Cana, effective November 13, 2023.
The decision to rebrand the resort aligns with a broader strategic vision of creating a cohesive brand identity across all Desire properties. This unification will enhance the guest experience and reflect the resort's dedication to offering top-notch, adult-oriented vacations in some of the most beautiful destinations.
"We are thrilled to embark on this exciting journey as we evolve into Desire Miches Resort Punta Cana," said Carlos del Pino, Operations and Commercial Director of Original Group. "This transformation is a testament to our commitment to offering our guests an exceptional and sensual experience. We're enhancing our brand identity and ensuring that couples can expect extraordinary service and unforgettable moments."
Located only 62 miles from the Punta Cana International Airport, Desire Miches Resort Punta Cana is a couples-only resort on the pristine beaches of Miches, Dominican Republic. The resort offers a high-energy environment for the confident, free-spirited traveler with an exciting clothing-optional jacuzzi lounge, a clothing-optional pool area, a private Playroom where couples can fulfill their fantasies, unparalleled entertainment offering stimulating daytime activities, seductive theme nights, special events all year long, and a wide variety of restaurants and beverages.
With this exciting change, Desire Miches Resort Punta Cana is set to continue its commitment to delivering a unique and sensual vacation experience to couples seeking an intimate, romantic, and playful escape in the paradise beaches of the Dominican Republic. The resort's team remains dedicated to providing the same high-quality service and memorable experiences that guests have come to expect over the years. Guests who love the Desire experience will now be able to get to live it in a more secluded environment in the heart of the Caribbean.
To stay updated on the latest news and offerings, reservations, or general inquiries at Desire Miches Resort Punta Cana, please visit our website: https://www.desire-experience.com/resorts/desire-miches-resort/.
FOR IMAGES, CLICK HERE
###
Contact Information:
Andrea Rodriguez
Senior Account Executive
[email protected]
786-328-9169
Original Source:
Temptation Grand Miches Resort Rebrands to Desire Miches Resort Punta Cana