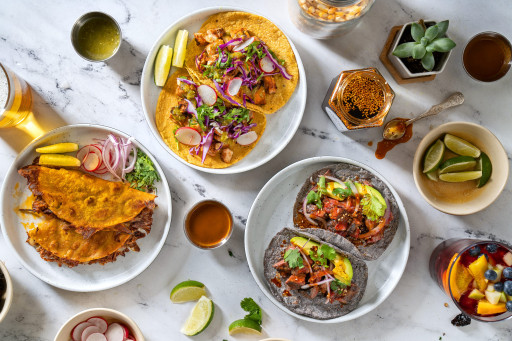 Celebrating Hispanic Heritage Month in style, Milpa caters to Vegas with its handmade heirloom tortillas and bowls, amplifying traditional Mexican flavors into a modern health concept
LAS VEGAS, September 29, 2023 (Newswire.com) - Renowned for bringing a unique authentic Mexican flavor that local Latinos relate to, Milpa has carved out a name for itself as the leading restaurant providing fresh handmade stone-ground heirloom tortillas. Showcasing a process as old as the Mesoamerican civilization, Milpa makes masa from scratch daily at its modern, healthy Mexican cafe. Milpa's usage of the 600-year-old corn grinding process, nixtamalization, to make masa in-house significantly distinguishes it from other restaurants that utilize pre-made tortillas.
Rooted in tradition, Milpa is revolutionizing the local restaurant industry by blending traditional Mexican food with health and freshness. The popularly reviewed healthy Mexican cafe sparks attention with its bowls and fresh ingredients, showing locals that traditional Mexican food can be healthy and delicious simultaneously. Milpa's tetelas, tamales and more, accompanied by their homemade fresh tortillas, detail a flavor profile reminiscent of Mexico.
Behind the tasteful revolution is renowned international Mexican Chef DJ Flores. Having held his forte in some of the biggest restaurants in Vegas and beyond, including Jaleo, Border Grill, Chica, and Quintonil in Mexico City, Flores shows unwavering determination and resilience, mirroring many local Hispanics in Vegas. The establishment of Milpa during the pandemic after being fired from a restaurant is a testimony of Flores' courage and hard work.
Now, in the wake of Hispanic Heritage Month, Milpa is serving up popular, healthy Mexican dishes designed to transport people right to the heart of Mexico through a bite. By retaining the natural, fresh flavors in the handmade tortillas, the restaurant is not just celebrating a crucial month in Hispanic culture, but also adding to the Vegas culinary experience.
As this unique restaurant continues to gain momentum, it's evident that Chef DJ Flores is not just introducing Vegas to Mexican cuisine, but he's carving out a novel narrative of health-conscious, traditional Mexican meals. The continued recognition and praises only affirm that Milpa is indeed the "Vegas King of Handmade Fresh Tortillas."
Contact Information:
Idania Ramirez
PR Representative
[email protected]
7026199599
Original Source:
Milpa Lives Up to New Name of Vegas King of Handmade Fresh Tortillas