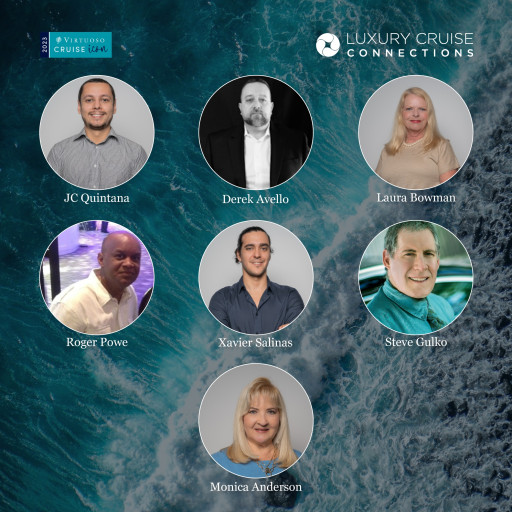 Seven of Luxury Cruise Connections' advisors received the title this year, elevating the agency's relationship with over 400 select cruise lines. For clients, this means exclusive benefits and special discounts via the Virtuoso Voyages program.
MIAMI, September 27, 2023 (Newswire.com) - Virtuoso®, the leading global network specializing in luxury and experiential travel, has recognized seven of Luxury Cruise Connections' travel advisors as 2023 Virtuoso Cruise Icons, a distinctive honor for a group of advisors whose sales performance excels within the industry. Only a select group of 78 advisors within the network have been honored with the Virtuoso Cruise Icon designation. This means Luxury Cruise Connections' team represents 10 percent of an elite group of advisors marked as the top one percent in Virtuoso's cruise sales, reinforcing its position as a leader within the luxury travel industry.
As Virtuoso Cruise Icons, JC Quintana, Derek Avello, Steven Gulko, Laura Bowman, Roger Powe, Monica Anderson, and Xavier Salinas will have access to various events and networking opportunities designed to foster growth, collaboration, and sharing of best practices within the network's cruise community, including Virtuoso Travel Week, luxury travel's preeminent worldwide gathering.
Virtuoso's combined annual sales of $28 billion to $32 billion allow advisors, including Virtuoso Cruise Icons, to offer exclusive benefits to their clients on over 400 select cruises annually across 12 separate cruise lines via the Virtuoso Voyages program, including a dedicated onboard host and a choice of an additional benefit ranging in value from $500 per couple to several thousand dollars, depending on the sailing. The network's advisors also receive access to enhanced traveler advantages at more than 1,500 preferred partner hotels and resorts, such as complimentary upgrades, personalized amenities, and additional bonuses that enrich the overall stay.
For more information about Luxury Cruise Connections and its luxury travel offerings, please visit www.luxurycruiseconnections.com. To learn more about Virtuoso and its professional travel advisors, please visit www.virtuoso.com.
Contact Information:
Misty Belles
Vice President, Global Public Relations Virtuoso
[email protected]
(202) 553-8817
Carlos Edery
CEO & Co-founder Luxury Cruise Connections
[email protected]
(305) 914-3040
Original Source:
Luxury Cruise Connections Travel Advisors Named 2023 Virtuoso Cruise Icons, Luxury Cruising's Most Prestigious Recognition