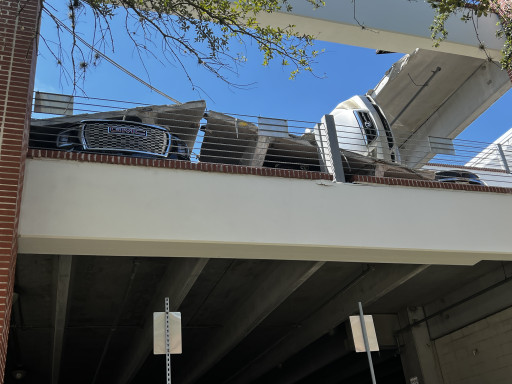 JACKSONVILLE, Fla., October 19, 2023 (Newswire.com) - Insurance Risk Services of GA (IRSGA) reports that Tracked Machines' Automotive Robot Technology, the TowTrack & TowTrackXL, is changing several industries that include insurance, automotive, transportation and parking. This Automotive Robot Technology has already become mandated equipment that must be used in the EU and England and will soon be required by U.S. officials in the automotive, transportation and parking industries. This technology reduces the dangers that workers are faced with when having to move 8,000 lb vehicles that have no rolling abilities without possessing the keys. They do this without entering/touching the vehicle while the operator is out of harm's way, removed from the risk of physical injury that can occur from physical excursion or strain. This is a game-changer to any industry.
In September 2023, Jacksonville WJXT NBC 4 News reported an incident involving a collapsed medical Parking Garage in Jacksonville Florida. Tracked Machines North America, Inc. set a new world record with their TowTrackXL Automotive Robot that recovered and moved 103 vehicles out of the collapsed parking garage without any human being physically present inside the parking garage and without physically touching any of the vehicles. This incident showcased the capabilities of this technology, which included strength, power, and stability control of the TowTrackXL Robot while carrying vehicles weighing more than 8,000 lbs. These vehicles included multiple Teslas, a 2022 Electric Hummer, a 2023 Rivian R1T, and a 2022 Ford F-150 Lightning. This machine completed complicated and difficult tasks that no other equipment has the ability to do, and this was completed in a short amount of time. This impressive feat was carried out by an operator controlling a TowTrackXL Robot with a remote and a DJI drone for eyes.
Lower levels of hospital parking garages are reserved for hospital staff and tend to hold newer and pricier vehicles to include European all-wheel-drive and electric vehicles. These types of vehicles require special handling to prevent damage to complicated vehicle safety systems, like ABS, traction control systems, and their manufacturing with delicate metals that bend and cause catastrophic damage. Per manufacture towing procedures, wheel-lift wreckers are prohibited from being used when towing these types of vehicles.
Recently, the builder of this hospital parking garage experienced another major incident with the partial collapse of a different multi-story hospital parking garage located in Atlanta Georgia. This incident resulted in over one hundred vehicles being trapped and damaged inside the parking garage. After rescue operations were completed, investigators went into the Garage to inspect and found vehicles were obstructing important areas needing inspection, requiring them to be moved before any inspections could continue. Tracked Machines North America also completed that recovery operation.
The meticulous process of removing vehicles from a collapsed parking garage had to be completed without entering the garage and without possessing vehicle keys. This was a huge task for Tracked Machines to accomplish. Building inspectors would not allow anyone to enter the garage due to the risk of injury if further collapse occurred. In other locations, like New York City, parking garage collapses have been ruled as "catastrophic failures" due to the excessive weight of electric vehicles and the use of wreckers that entered the garages and exceeded the structure's weight limits. These legal issues are causing transportation insurance underwriters to change insurance coverage by placing insurance policy limitations and exemptions to commercial trucks that enter into parking structures to reduce liability exposure.
Newer vehicles possessing technology advancements require special handling to prevent damage to complicated vehicle safety systems, like ABS, traction control systems, and their manufacturing with delicate metals that bend and receive catastrophic damage when proper procedures are not followed. The mission for Tracked Machines was to remove vehicles and reunite them with their owners without any vehicle damages. Jacksonville WJXT News sky-drone footage showed multiple vehicles costing over $100,000 trapped inside the collapsed garage. The TowTrack Robot went into the garage, picked up the vehicles by the wheels and then carried them out without any human entering the garage or physically touching any vehicles. This mission was accomplished and no damages were reported after vehicle inspections were made by insurance officials, resulting in a new record.
The TowTrack Robots are patent-pending technology that move on caterpillar tracks and are operated by remote control. The technology allows for autonomous loading and unloading of vehicles while maintaining stability while moving an 8,000 lb vehicle. These machines are custom manufactured to order and are available in two sizes, the regular size that can lift 8,000 lb. (requires a 26,000 GVW Rollback) and the XL that can lift 17,000 lbs (requires a 33K GVW Industrial Rollback). These machines have been accepted internationally and have become required, mandated equipment in England and in some European Union countries. These parking garage recovery incidents have already caused discussions in the Insurance Industry for these machines to be required and used within the American Parking, Automotive and Transportation industries.
Tracked Machines announced they are demonstrating this robot technology to the automotive industry along with other new automotive technology, "CarMoverXL", at the 2023 SEMA Show located in Las Vegas, Nevada, the first week in November 2023.
Contact Information:
Jason Peacock
Risk Assessor III
[email protected]
770-917-2522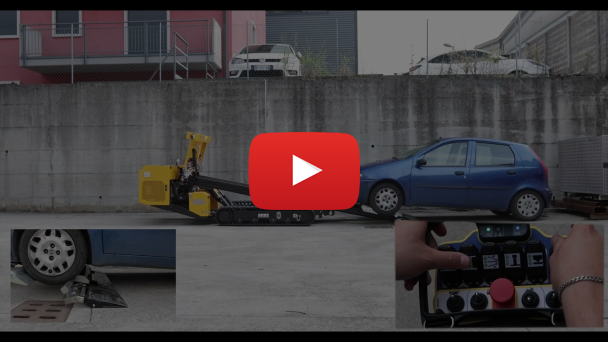 Original Source:
Insurance Risk Services of GA Reports Tracked Machines Sets New Record, Changing Automotive, Parking & Transportation Industries with New TowTrackXL Robotic Technology