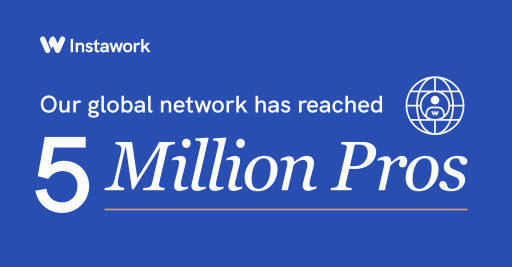 The flexible work platform provides its global network of users new work opportunities with unique training and certification to further advance their careers
SAN FRANCISCO, October 10, 2023 (Newswire.com) - Instawork, the leading platform for connecting businesses with skilled hourly workers across the United States and Canada, announced today that it has over 5 million users, creating the largest professional network for hourly workers.
Over the past year, businesses and workers across the country have requested Instawork in their cities to provide an easy way for them to easily connect. As a result, Instawork has recently announced availability in several new markets, including Buffalo/Rochester, Charleston, Cleveland, Hartford, Milwaukee, Providence, Raleigh-Durham, Savannah, Virginia Beach, and Richmond.
Instawork's network offers hourly workers the ability to leverage their skills and experience to further advance their careers by verifying credentials on and off the Instawork platform. The platform also reinforces worker and business rating signals and enhances its machine learning capabilities to best match workers with available shifts. Unique training and certification opportunities will also unlock work for millions of users who are not eligible for certain shifts due to a current lack of certification or if they wish to highlight their certifications outside of the Instawork platform.
"Hourly workers are the backbone of the economy, and they deserve better recognition for the critical role they play. The pandemic made it clear that digital transformation is no longer optional, and the growing need for a digital profile of record for hourly workers is a reflection of this trend," said Sumir Meghani, Co-Founder and CEO of Instawork. "By providing a secure and accessible platform for workers to showcase their skills and experiences, we can help bridge the gap between workers and the businesses they serve, and create a more equitable and inclusive labor market."
The announcement follows Instawork's recent $60M Series D funding to accelerate investment in AI-driven capabilities that will help optimize how businesses connect with hourly workers. Fueled by this growth, Instawork is helping staff distribution centers for some of the country's largest retailers as well as the majority of sports stadiums across the U.S. and Canada.
Instawork was ranked in the top 10% of the country's fastest-growing companies by Inc. 5000. In 2022, Instawork was included in the Forbes Next Billion Dollar Startup list, received the 2022 ACE Award recipient for "Best Innovation," and was named one of the "Best Business Apps" by Business Insider. Those interested in learning more about Instawork should visit www.instawork.com or download the app.
About Instawork
Founded in 2016, Instawork is the leading flexible work app for hourly workers. Its platform connects thousands of businesses with over five million workers, filling a critical role in local economies. Instawork has been featured on CBS News, the Wall Street Journal, The Washington Post, and more. Instawork helps businesses in the food & beverage, hospitality, and warehouse/logistics industries fill temporary and permanent job opportunities in more than 40 markets across the U.S. and Canada. Follow us on Twitter, Instagram, LinkedIn, and Facebook.
Contact Information:
Kira Caban
Head of Strategic Communications
[email protected]
Original Source:
Instawork Creates the Largest Professional Network for Hourly Workers