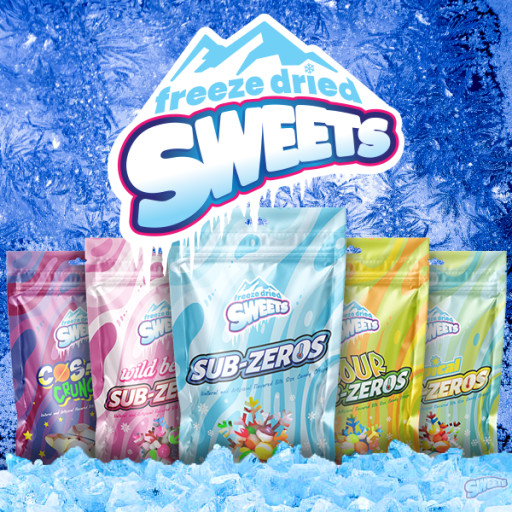 Freeze dried candy is quickly becoming the nation's favorite new snack.
WAUWATOSA, Wis., September 22, 2023 (Newswire.com) - Hemp Living Wholesale, a leading Wisconsin-based manufacturer and distributor of legal hemp products since 2018, announces its exclusive partnership with industry-leading Wisconsin candy manufacturer, Freeze Dried Sweets LLC.
"We're beyond excited about this new partnership with Freeze Dried Sweets and appreciate the opportunity to serve our customers with another series of innovative products," said Brian Willke, Logistics Manager at Hemp Living Wholesale. "We discovered these popular products taking off in local shops around Milwaukee, and I think our client base is going to be amazed at how fast these items will move in their smoke shops, convenience stores, and other retail locations. The demand is already insane, as people are still learning about freeze-dried candy, and we're thrilled to be able to offer these trending treats!"
Freeze Dried Sweets Products
Freeze Dried Sweets is out of the gate with 5 tasty treats for all to try.
Sub-Zeros Fruity Candy Crisps - Indulge in a range of mouth-watering fruit flavors like strawberry, orange, lemon, lime, and grape.
Sour Sub-Zeros Candy Crisps - Satisfy your craving for tangy treats. Our mix includes sour strawberry, sour orange, sour lemon, sour lime, and sour grape flavors, perfect for those who enjoy the sour side of sweets.
Wild Berry Sub-Zeros Candy Crisps - Indulge in exciting fruity flavors such as wild cherry, strawberry, melon berry, raspberry, and berry punch. These snacks are perfect for sharing and will satisfy everyone's berry cravings.
Tropical Sub-Zeros Candy Crisps - Experience a delightful tropical journey. Savor the flavors from starfruit strawberry, tangerine mango, berry banana, key lime, and passionfruit pineapple.
Cosmic Crunch Candy Puffs - Try the fruity explosion. Each bite is a perfect blend of concentrated fruit juices and purees of strawberry, green apple, and mango that will surely tantalize your taste buds.
What is Freeze Dried Candy?

Freeze drying is a process where food is cooled to low temperatures so the moisture is removed, resulting in a crunchy, mouth-watering bite. Does candy stick to your teeth and drive you crazy? Try this crunchy alternative! People love how the candy crackles before dissolving into sweet flavory goodness.
Where to Find Freeze Dried Sweets?
The newly introduced products are available now for purchase on Hemp Living's retail website, hemplivingusa.com. Are you a smoke shop or cannabis distributor that would like to set up a wholesale account? Visit hemplivingwholesale.com. For all other wholesale inquiries, visit freezedriedsweetswholesale.com.
Contact Information:
A.J. Jacunski
Director of Marketing and Product Development
[email protected]
(414) 885-2024
Original Source:
Hemp Living Wholesale Partners With Freeze Dried Sweets LLC for Exclusive Freeze Dried Candy Distribution