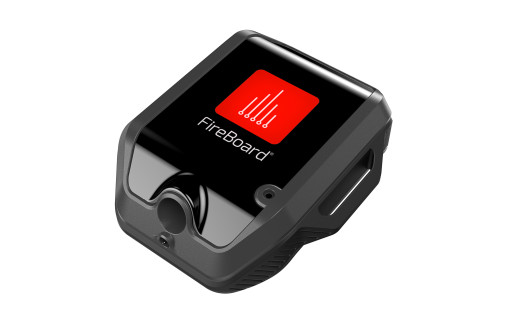 From its Kansas City, Missouri, headquarters, FireBoard Labs announces a new product offering called the Beacon, opening new temperature monitoring possibilities in restaurants, grocery and cold storage. The Beacon uses industry-leading, cloud-connected technology paired with the FireBoard mobile app to provide remote temperature monitoring and logging.
FireBoard Beacon
3Q View of the FireBoard Beacon, a long range, wireless temperature and humidity sensor.
KANSAS CITY, Mo., November 14, 2023 (Newswire.com) - Leading temperature monitoring company FireBoard Labs is announcing a new product available on FireBoard.com called Beacon, unlocking new commercial and consumer temperature tracking opportunities utilizing their industry-leading, cloud-connected technology.
Adding a new product to their lineup, FireBoard Beacon is a wireless temperature and humidity sensor, easily placed in refrigerators, freezers, or key production areas in a facility to provide realtime tracking. Utilizing FireBoard S1G™ technology, the Beacon connects using a low-frequency signal, offering a significant range benefit compared to traditional 2.4Ghz connectivity.
FireBoard CEO Ted Conrad explained the benefits: "By using S1G technology, the Beacon is an incredibly versatile device, obtaining good signal strength in walk-in fridges, freezers, or other places where typically a wireless signal could not penetrate."
From their headquarters in Kansas City, FireBoard Labs designs, develops and manufactures their own products, leaning on a vertically integrated domestic assembly operation to ensure quality products and timely lead times. Started in 2015, FireBoard has developed a reputation for high-quality, premium solutions used throughout the cooking and barbecue world.
Expanding on FireBoard's existing consumer products, the Beacon can also be used to track hot temperatures using an external probe port. Ted summarized: "We've intentionally designed the Beacon to monitor a wide range of temperatures, and it's exciting that consumers can also use Beacon for their everyday cooking."
The Beacon is available for pre-order from FireBoard.com, starting November 14, 2023.
Learn more about the FireBoard Beacon and S1G wireless technology on FireBoard.com/Beacon.
Contact Information:
Wendy Jones
Sales Desk
[email protected]
816-945-2232
Original Source:
FireBoard Beacon Temperature Monitor Opens New Doors With S1G Tech