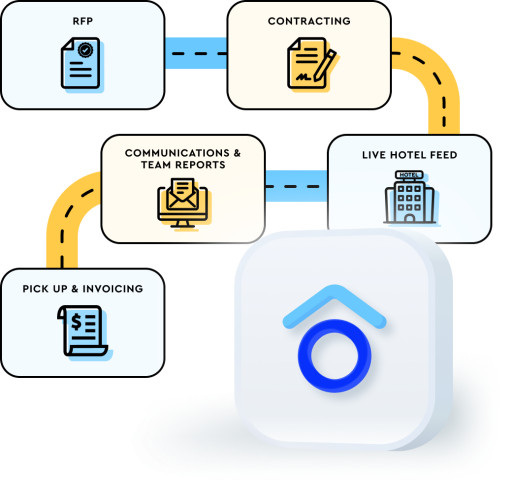 Introducing HousingConnect, The Industries Most Advanced Housing Solution by EventConnect.
LONDON, Ontario, September 26, 2023 (Newswire.com) - Today, EventConnect unveiled its private-labeled solution, HousingConnect, tailored to the needs of 3rd party housing companies and substantial rights holders with internal teams. HousingConnect is the most comprehensive and advanced event group housing solution, offering a simplified hotel-blocking and booking process for teams while guaranteeing the lowest group rates, verified daily. This turnkey, highly customizable and robust travel booking alternative is designed to help businesses build, grow and streamline their operations.
EventConnect's solid partnerships and buying power with the world's leading travel brands allow HousingConnect to provide its clients with the most competitive market inventory available, including vacation rentals, cabins and condos. 3rd party housing companies now have access to EventConnect's AI-powered text and voice chatbots, enabling them to rapidly expand their customer service capabilities and automated invoicing, pick-up and collections. This innovative solution presents an exciting opportunity for businesses to boost their market presence and gain a competitive edge.
3rd party housing companies can seamlessly integrate their clients' registration platforms through open APIs, providing a highly connected environment for teams and participants. This allows for improved speed and communication between parents and the organization, ensuring that expectations are met promptly. Leveraging this technology provides a unique opportunity for businesses to create a more efficient and streamlined registration process.
"We are excited to offer our highly customizable product to other 3rd party housing companies that, to date, have been limited in the technology options available to meet the demands of their growing business and improve customer service," said Eric Vardon, President at EventConnect. "Since 2013, we have continually invested in our product and team to remove the traditional pain points surrounding group travel. To be able to launch HousingConnect, our private-labeled solution to answer the need for more extensive and robust technology across our industry, is truly a disrupter in the youth and amateur sports industry," Vardon added.
Media Contact: [email protected] President, (226) 546-2883
About EventConnect
EventConnect is the first event management software in the sports tourism industry that connects thousands of rights holders, tournament directors and accommodations on one platform—working with more than 4,000 events and 30,000 hotels & vacation rentals in over 800 cities across North America. EventConnect technology helps sports tournament organizers reduce time spent on administrative tasks and increase capacity for delivering memorable experiences to all participants. The end-to-end platform is customized for each partner's needs and is seamless for organizers and participants, creating efficiency while increasing value. Learn more at http://eventconnectsports.com.
Contact Information:
Eric Vardon
President
[email protected]
5198515386
Original Source:
EventConnect Disrupts the Amateur Sports Industry With the Launch of HousingConnect