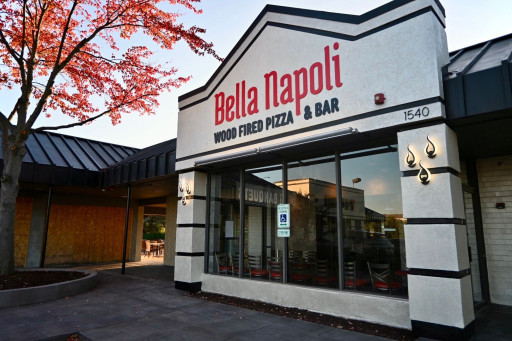 The team behind Moretti's Ristorante & Pizzeria restaurants, Ala Carte Entertainment, is opening a new woodfired pizza concept in the Northwest Suburbs. Bella Napoli takes inspiration from the kitchens of Naples, crafting artisan Neapolitan pizzas and many other unique chefs' creations, paired with an innovative cocktailing experience and entertainment.
SCHAUMBURG, Ill., October 26, 2023 (Newswire.com) - Bella Napoli, a wood-fired pizza concept and Italian restaurant, is opening in Schaumburg, Illinois.
Bella Napoli embodies the essence of its name, representing "the beauty of Naples," without leaving Schaumburg. The culinary team takes pride in crafting artisan wood-fired Neapolitan-style pizzas in our deluxe large red pizza oven. The wood-fired oven infuses each pizza with smoky, lightly charred goodness handcrafted with a custom Neapolitan dough recipe and only the freshest, highest-quality ingredients like fresh mozzarella, San Marzano tomatoes, and the finest meats.
Step into Bella Napoli, and you'll be welcomed into a newly constructed, decorated space that exudes warmth and stylish comfort. Commanding the restaurant's interior is a long, gorgeous marble-topped bar, which can comfortably seat dozens of guests. Led by beverage director John Holder, Bella Napoli will be serving a unique craft cocktail menu and a wine list carefully curated to pair with the cuisine perfectly. Sitting at the bar, guests have a clear view of all the action as pizzas move in and out of the big oven, the heart of the Bella Napoli culinary magic.
Nearby, a spacious dining room awaits, seating over 100 guests. The room is tastefully decorated with elegant stonework, a fireplace, and rustic details to create a comfortable, stylish atmosphere. Lively music and all the action in the open kitchen create a vibrant energy that makes any dining or cocktailing experience fun and memorable.
But the Bella Napoli experience doesn't end indoors. There is an all-new wraparound patio that's partially covered for plenty of three seasons of al fresco dining, such as one would find in the gardens and neighborhoods of Italy. In every detail, Bella Napoli strives to offer not just a meal but a complete Neapolitan experience right here in Schaumburg. Bella Napoli will be open every day beginning Friday, Oct. 27, 2023.
Contact Information:
Archal Rami
Marketing
[email protected]
8474208071
Original Source:
Bella Napoli, a Wood Fired Pizza Concept, is Opening in Schaumburg