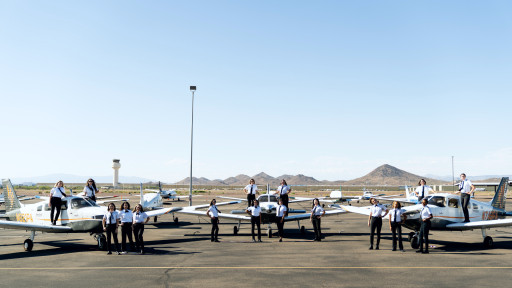 PHOENIX, November 14, 2023 (Newswire.com) - AeroGuard Flight Training Center, a global leader in providing career-focused flight training, is excited to announce a recent aircraft expansion deal with Piper Aircraft where it will receive 90 new Piper Archers.
With this deal, AeroGuard will more than double its fleet in size, bringing it to over 200 aircraft. This order signifies AeroGuard's commitment to meeting the growing demand for pilot training and the exponential growth the school has seen this year within its current courses. As a result, AeroGuard expects the capacity to consistently train over 2,000 student pilots across its three U.S. campuses, preparing student pilots for professional careers at the commercial airlines.
Joel Davidson, CEO of AeroGuard Flight Training Center, shared, "We are thrilled to sign this agreement with Piper Aircraft to bring 90 new Piper Archers to AeroGuard's fleet. This investment represents our commitment to providing our student pilots with every resource they need to succeed while experiencing the highest quality flight training in the world. With these additional aircraft, AeroGuard has the capacity to welcome hundreds of new student pilots and airline cadets to our flight training programs."
In addition to this order of 90 aircraft, AeroGuard will have added 25 additional planes to its rapidly expanding fleet by the end of 2023. AeroGuard also recently expanded its Phoenix, Arizona, location, growing capacity by 30% with the addition of a new building.
AeroGuard Flight Training Center has seen significant growth in enrollment this year, especially in its domestic training programs. Its Pilot Pathway Program, offered in partnership with SkyWest Airlines, provides students with a clear path to their future career with guaranteed interviews at each stage, ongoing mentorship, and tuition reimbursements. AeroGuard also became the Flight Training provider for Arizona State University's Professional Flight degree in 2022, allowing students to graduate with a Bachelor's Degree and the 7 FAA ratings and certifications to become a commercial pilot.
"At Piper Aircraft, we pride ourselves in making high-quality, reliable training aircraft to support each flight school's individual needs," said John Calcagno, President and CEO. "We are honored to continue our partnership with Piper Flight School Alliance member, AeroGuard, and provide them with 90 new trainers over the next five years."
AeroGuard is a leading flight training provider with growing training capacity and facilities, three locations that offer ideal flight training environments with up to 350 flying days a year, and a high-quality curriculum to develop future industry leaders worldwide. The new Piper Archers will be delivered to AeroGuard in 2024 and the coming years and further contribute to the efficiency of AeroGuard's accelerated programs, while continuing to focus on safety and quality training.
About AeroGuard Flight Training Center:
AeroGuard Flight Training Center is one of the U.S.'s most successful flight schools, offering accelerated commercial pilot training to candidates from all over the world. With a commitment to safety and student success, AeroGuard has a proven history of training airline-ready pilots, with over one million flight hours of training experience and graduating over 7,000 cadets.
Contact Information:
James Constable
Chief Marketing Officer
[email protected]
800-322-1526
Related Images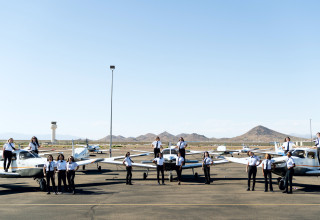 AeroGuard Expands Fleet With 90 Aircraft Order from Piper
AeroGuard Flight Training Center Signs Deal with Piper Aircraft to Expand Fleet and Training Capacity with 90 New Planes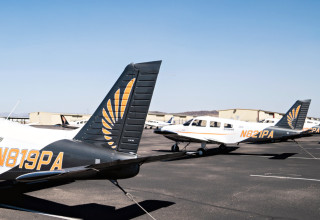 AeroGuard Expands Fleet With 90 Aircraft Order From Piper
AeroGuard Flight Training Center Signs Deal with Piper Aircraft to Expand Fleet and Training Capacity with 90 New Planes
Original Source:
AeroGuard Flight Training Center Signs Deal With Piper Aircraft to Expand Fleet and Training Capacity With 90 New Planes