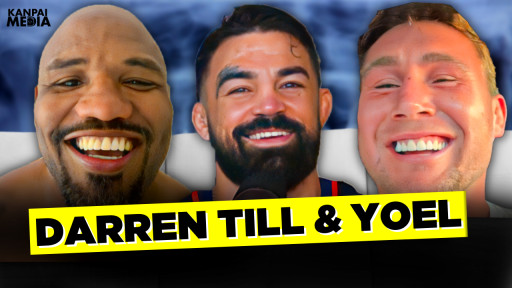 Overdogs Podcast Episode 7: An Hour and a Half of Uncensored Conversations with Darren Till + Yoel Romero, and Hosts Ice Bagz, Mac Mally, and New Co-Host Platinum Mike Perry.
LOS ANGELES, September 30, 2023 (Newswire.com) - Today, the Overdogs Podcast drops another banger episode featuring host @IceBagz_, co-host @Mac Mally, and new Co-Host @Platinum Mike Perry with guests Darren Till and Yoel Romero.
Mike Perry is the "toughest human being on the planet," according to Joe Rogan, and he makes his podcast hosting debut with old foe Darren Till as his very first guest.
Platinum Mike Perry Said: "I'm stoked to be part of the Kanpai Media fam and share my fighting experience, perspective, and journey on the OverDogs Podcast — it's for sure one of the best shows out there in the Combat Sports world and I can't wait to connect with all the 2MM fans out there that have watched the show so far and also give back to my fanbase and sport!"
Darren Till and Mike Perry go toe to toe for 40 minutes in this wild, uncensored exchange live on air. In the opening minutes, Till tells Perry, "I just wanna fight you and knock you clean out." Till later added, "Your specialty is power and pure toughness. My specialty is beating people like you." Till and the team give their prediction for Alex Pereira vs Jiri Prochazka at UFC 295.
They all discuss the probability of Mike Perry fighting Logan Paul if Dillon Danis pulls out and the suit by Logan's fiance, Nina, against Danis. Mike talks about his new contract with Bare Knuckle Fighting Championship.
@IceBagz_ said: "We're thrilled to welcome Platinum Mike Perry as a new co-host to the OverDogs Podcast family, he's no doubt already added a layer of excitement and relevancy to the show as we are in the works of scaling the series to other premium leagues, conversation verticals and cultures, as we continue our exciting journey in scaling the podcast."
Till candidly discusses his business that was sued and later sold off. Finally, Darren Till and Mike Perry verbally agreed to fight in approximately 8 months in the boxing or bare-knuckle ring.
Yoel Romero talks about his car chase in Jordan with Mike Perry, his next opponent, and his controversial Israel Adesanya's loss at UFC 248 that changed the trajectory of his MMA career. Yoel also lays out his plan for the UFC middleweight division, Sean Strickland's first title defense, Dricus Du Plessis and Jared Cannonier.
"If he had more time to recover, the fight would have been different." Yoel shared his feelings that Israel Adesanya needed more rest after his KO loss at UFC 281 to Alex Pereira and KO win just 5 months later at UFC 287.
Yoel also hints at who his next fight will be with. Watch the episode to see who Yoel Romero will be in the octagon with.
Watch Now: https://OverDogsPodcast.com
Contact Information:
David Nam
Head of Marketing, Kanpai Pandas | Kanpai Media | Kanpai Collective
[email protected]
Original Source:
Introducing the New Co-Host of Kanpai Media's OverDogs Podcast, Platinum Mike Perry