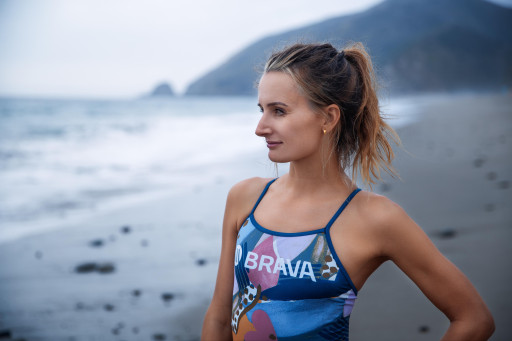 Global Triathlon's Record Attempt is Fundraiser for ZGIRLS Non-Profit, Founded by Olympians & Professional Female Athletes to Instill Middle School Girls With Self-Confidence Through Sport
Kelsey Myers
This winter, Kelsey will attempt to be the first woman to race 7 triathlons on 7 continents in 7 days.
LOS ANGELES, October 12, 2023 (Newswire.com) - Kelsey Myers, an advocate for women in sports and endurance enthusiast, is set to embark on an extraordinary journey this winter to attempt a world record. Myers will take on the challenge of finishing 7 triathlons on 7 continents in just 7 days in an incredible display of determination and athletic prowess.
The world of triathlons is no stranger to Kelsey Myers, a seasoned athlete who has successfully completed numerous races and overcome formidable challenges including a full Ironman, three half-Ironmans, and countless sprint distance races. Inspired by her passion for pushing boundaries and breaking barriers, she has decided to embark on this ambitious quest to raise awareness of the gender gap in triathlons and encourage more girls and women to take on the challenges that sport offers.
The record attempt will see Myers competing in triathlons across all seven continents, including Malibu, California, United States; Puntarenas, Chile; Malaga, Spain; Muscat, Oman; Tangier, Morocco; Sydney, Australia; and Antarctica. Each triathlon will test her physical and mental endurance as she conquers varying terrains and climates, showcasing her adaptability and tenacity.
With this attempt, Myers aims not only to etch her name in the record books but also to inspire other girls and women to push beyond their limits. Myers will be fundraising and advocating for ZGiRLS, a 501(c)(3) nonprofit organization founded by Olympic and NCAA female athletes dedicated to teaching middle school girls tangible skills to overcome self-doubt, fear, and insecurities while increasing their confidence and self-esteem.
To track Myers' progress and support her on this monumental undertaking, also known as Global Triathlon, follow her on Tik Tok and Instagram at @theglobaltriathlon and to donate to ZGiRLS, visit www.globaltriathlon.com.
The world eagerly awaits the results of this extraordinary challenge as Myers strives to make history with 7 triathlons on 7 continents in 7 days.
About Global Triathlon
Global Triathlon is the world record attempt undertaken by Kelsey Myers in the winter of 2023 to be the first woman to complete 7 triathlons on 7 continents in 7 days. The event is a fundraiser for the 501(c)(3) non-profit ZGiRLS.
Contact Information:
Priscilla Vega
Publicist
[email protected]
626-297-4080
Original Source:
Global Triathlon's Kelsey Myers Attempts World Record to Be the First Female to Conquer 7 Triathlons on 7 Continents in 7 Days