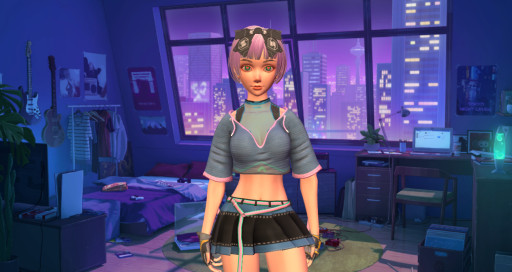 ROAD TOWN, Virgin Islands (British), October 4, 2023 (Newswire.com) - Avatar.One, a platform developing AI-powered interactive 3D avatars, is proud to announce today the launch of HAIKU The Quantum Hacker, a revolutionary 3D avatar hosted on Twitch. Her mission — to help humans break out of their NPC lifestyles. As the digital avatar market surges, HAIKU stands as a testament to the next wave of AI-powered companions.
HAIKU is a groundbreaking, fully interactive 3D avatar brought to life by Avatar.One. This cutting-edge platform allows users to create their ideal 3D AI-powered avatar, offering a deep and immersive connection unlike anything seen before. HAIKU is one of the first avatars built by Avatar.One. Her mission is to break users out of their NPC (Non-Player Character) lifestyle by engaging with them directly online via Twitch and offering them life tips such as helping them with their homework and getting out of the house. This high-quality 3D avatar is fully interactive in the sense users can ask any question, ask her to perform certain animations and eventually visit different online destinations. HAIKU learns about certain users and reacts accordingly to their comments. This avatar is available 24 hours a day, seven days a week via the Avatar.One Twitch channel here.
Avatar.One's unveiling of HAIKU marks just the beginning. The company has ambitious plans to create a diverse range of interactive 3D avatars, both hosted on Twitch and within its proprietary platform at Avatar.One. These avatars promise to redefine digital companionship and open up exciting new horizons for self-expression and connection. These avatars will eventually be available across platforms such as Apple Vision Pro and Meta Quest where any user can create their very own high-quality 3D AI companion and develop memorable relationships with them.
The digital avatar market is poised for exponential growth, predicted to rise from $10 billion in 2020 to a staggering $525 billion by 2030, according to a report by Emergence Research.
HAIKU's creation has been made possible through working with industry leaders and technology providers: Inworld AI, Animaze and Microsoft Azure.
"When we talk, we instinctively emote and interpret emotional cues on the faces of others to complement and better understand what is being said. Avatar representations that are fine-tuned to support such natural ways of interaction are key for lasting interaction with AI brains and allow AI to be more present and helpful in our lives, in a way that feels more human. I'm really excited to see Avatar.One's HAIKU coming to life, supported by Animaze and Inworld technology," said Dragos-Florin Stanculescu, Animaze CEO.
"Avatar.One is building a cutting-edge platform that will allow anyone to create their own unique avatar and give them distinct personalities, motivations and goals. We're thrilled that Avatar.One is using Inworld's Character Engine and Animaze to power these these avatars on Twitch," says Nathan Yu, Director of Product Management, Inworld AI.
Contact Information:
Morio Katayama
Marketing Manager
[email protected]
Original Source:
Avatar.One Unveils HAIKU The Quantum Hacker: A Groundbreaking AI-Powered Interactive 3D Avatar