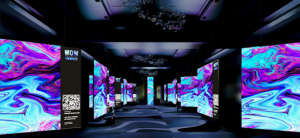 DUBAI, September 29, 2023 /EINPresswire.com/ — – Prepare for an Unforgettable Journey: WOW Summit Dubai 2023, the Epitome of Luxurious Web3 Experience
– Igniting Innovation and Inspiring Success in the Heart of the UAE
– An exquisite affair that stands as the unrivalled pinnacle of Blockchain events in the Middle East.
The highly anticipated World of WEB3 Summit Dubai, widely hailed as the WOW SUMMIT Dubai 2023 is set to take the world by storm, with an extraordinary lineup of speakers and a prestigious group of sponsors, all converging at the luxurious Atlantis the Royal in Dubai on October 8th and 9th, 2023.
The event promises to be a groundbreaking exploration of the latest trends and innovations in the Web3 space.
Ivan Ivanov, Global CEO at WOW Summit, expressed his enthusiasm for this year's event: "WOW Summit Dubai 2023 is poised to be a landmark gathering for Web3 and Web2 industry leaders, investors, and Government representatives. With our remarkable speakers and esteemed sponsors, we are setting the stage for invaluable discussions and collaborations that will shape the transition from Web 2.0 to Web 3.0. World of Web3 Summit is set to showcase the real-life use cases of DLT and Blockchain technology, innovations in the financial infrastructure, Digital ID, and CBDCs."
At the heart of our event, we are privileged to have Fastex, Unicoin, and Farcana as our Title sponsors, complemented by our cherished Platinum sponsors Darwinbit, iVendPay, MMPRO Trust, and Zima Bank. Their pivotal role as main sponsors shines a bright light on their unwavering dedication to nurturing innovation and propelling progress within the dynamic blockchain industry. Their visionary leadership and exceptional expertise in development and strategy resonate throughout the event, steering the discourse on the remarkable transformative power of blockchain technology.
Distinguished leaders in the blockchain and digital assets sphere and esteemed government officials from the UAE will be honored speakers on the conference stage. WOW Summit Dubai 2023 distinguished speakers include Yat Siu, Founder and Executive Chairman at Animoca Brands, Dr. Marwan Alzarouni, CEO at Dubai Blockchain Centre, Mohammad Alblooshi, Chief Executive Officer at the DIFC Innovation Hub, Nameer Khan, Founder of FILS & Chairman MENA Fintech Association, Miriam Kiwan, Vice President, MENA at Circle, Mohamed Issa, Regional Director at Chainalysis, Sam Katiela, Founder & CEO at Mamemo and Chairman at Crypto Valley Partners, Joy John, AI Services Specialist, EMEA, Oracle and Scott Thiel, Founder & CEO at TOKO by DLA Piper and Jiten Varu, Head of Web3 at AWS. They bring a wealth of knowledge, experience, and vision to the stage, ensuring that attendees will be treated to profound insights and valuable discussions.
Additional notable figures gracing the event include Michael Terpin, Serial Entrepreneur and Investor, Gurvinder Ahluwalia, Founder & CEO at Digital Twin Labs, Christian Gleich, Ambassador of the European Blockchain Association, Nick Spanos, Bitcoin Pioneer, Joshua Hawley, Managing Director at US Capital Global, Mansoor Madhavji, Blockchain Founders Fund and Saqr Ereiqat, Co-Founder at Crypto Oasis.
WOW Summit Dubai 2023 is set to be an unmissable Web3 event that will shape the future of blockchain technology. Attendees can look forward to an unparalleled experience filled with knowledge sharing, networking opportunities, and the chance to explore cutting-edge developments in the Web3 ecosystem.
About WOW Summit Dubai

WOW Summit is a premier global event that takes place in major cities around the world, including Lisbon, Hong Kong, and Dubai. With a focus on go-to-market management and business development relations, WOW Summit fosters collaboration between Government Authorities, Institutionals, VCs, and fintech companies in Dubai and Abu Dhabi.

WOW Summit Dubai is a premier global event that brings together industry leaders, visionaries, and entrepreneurs from around the world. As a platform for inspiration, empowerment, and business development, WOW Summit drives success in the dynamic landscape of the UAE and beyond. The event covers a wide range of topics, including the Web2 – Web3 transition, CBDC, regulations, asset tokenization, and the social impact and applications of blockchain and DLT technologies. WOW Summit Dubai 2023 will feature an incredible art and NFT area, providing attendees with an immersive experience in the world of digital art and opportunities to connect with like-minded individuals.
The event is hosted by GuyWay, powered by MarketMakingPro, and co-organised by Uvecon.vc. In the past, WOW Summit has hosted renowned speakers, such as Sebastien Borget (Sandbox), Lennix Lai (Global Chief Commercial Officer at OKX), Dave Chapman (Executive Director at BC Group), Angelina A. Kwan (CEO at Stratford Finance Limited), Duncan Wong (CEO at CryptoBLK), and Julian Gordon (Hyperledger, Linux Foundation). To exhibit, sponsor or partner, contact us at [email protected].
Website: https://wowsummit.net/
Media Relations
WOW Summit
email us here
Originally published at https://www.einpresswire.com/article/658574467/wow-summit-dubai-2023-unveiling-a-star-studded-lineup-of-speakers-and-esteemed-sponsors