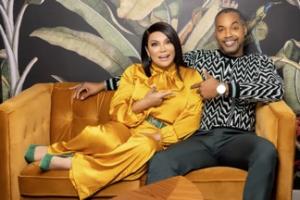 ATLANTA, GEORGIA, USA, July 18, 2023/EINPresswire.com/ — Beloved television personalities Egypt Sherrod and Mike Jackson have been nominated for the prestigious American Reality TV Awards (The ARTAS®) in the category of Best Home Series. The charismatic couple is recognized for their captivating show, "Married to Real Estate," on HGTV.
"Married to Real Estate" has captured the hearts and minds of viewers with its engaging storytelling, insightful DIY advice, and mind blowing transformations. Sherrod's and Jackson's real estate expertise and infectious enthusiasm have made them fan favorites. Their show offers viewers a unique glimpse into the challenges and triumphs of couples navigating the competitive real estate market and the emotional rollercoaster of home renovations.
"We were deeply humbled by the acknowledgment bestowed upon us by the American Reality TV Awards in the Home Series category, as it is a testament to the unwavering dedication and immense effort we poured into our show, Married to Real Estate," says Egypt and Mike. "Of course, the baby girl Harper steals the show, though," Mike proudly exclaims about their four-year-old.
In their quest for the Best Home Series award, Married to Real Estate faces tough competition from other highly acclaimed shows, including Welcome Inn (HGTV), Fixer Upper: Welcome Home (MAGNOLIA), Flip Or Flop (HGTV), The Great Christmas Light Fight (ABC), Lil Jon Wants To Do What? (HGTV), Queen Of Versailles (discovery+), and Ugliest House In America (HGTV).
The American Reality TV Awards (The ARTAS®), founded in 2012, celebrates and redefines reality television by recognizing excellence and encouraging innovation. With a focus on the public's influence, ARTAS acknowledges diverse programming that keeps reality TV at the forefront of entertainment.
Esteemed producer John Barra, a two-time Daytime Emmy Award winner, is the showrunner and talent producer. In 2019, over 75% of cable TV's top-rated original series were non-fiction shows, highlighting the industry's significance. Previous winners include Ellen DeGeneres, Steve Harvey, Leah Remini, and Julia Louis-Dreyfus.
To vote for Egypt Sherrod and Mike Jackson and help them secure the Best Home Series award for Married to Real Estate, simply text ARTAS to 40691 or online at www.realitytelevisionawards.com. Your support is appreciated in recognizing their outstanding contribution to reality television.
For more information on the American Reality TV Awards and to stay updated on the latest news and trends, follow @RealityAwardsTV on social media or use the hashtag #TheArtas.
You can vote daily until July 20, 2023.
###
Sherrod Shackelford
Connect Branding & Marketing
+1 4045957716
email us here
Visit us on social media:
Facebook
Twitter
Instagram
YouTube


Originally published at https://www.einpresswire.com/article/644962410/world-class-real-estate-duo-egypt-sherrod-and-mike-jackson-nominated-for-best-home-series-at-american-reality-tv-awards