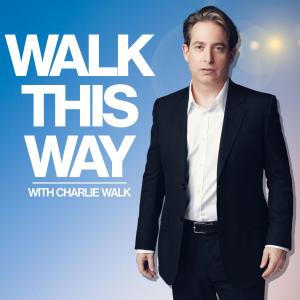 Charlie Walk has proven throughout his career that he's a true master of the art of networking.
LOS ANGELES, CALIFORNIA, UNITED STATES, July 28, 2023/EINPresswire.com/ — ZEX PR WIRE – Charlie Walk has proven throughout his career that he's a true master of the art of networking. He has leveraged his connections to produce truly exceptional content, including his acclaimed podcast, Walk This Way. What sets his show apart is his ability to tap into a wide range of industries and skillfully ask the right questions. Drawing from his background in the music industry, each episode is infused with a genuine sense of curiosity and enthusiasm that is contagious.
Charlie constantly explores new topics and themes with a fresh perspective, creating a one-of-a-kind show that is both informative and engaging. His wealth of knowledge and experience, coupled with his extensive network of contacts, have resulted in a podcast that showcases why he is one of the most influential voices in the world of podcasting today. In an upcoming episode, Charlie Walk sits down with businesswoman and entrepreneur, Julie Macklowe, to delve into the world of American Whiskey.
Charlie Walk has had the privilege of witnessing Julie Macklowe's journey unfold from the very beginning, and it has been an intriguing experience. Julie initially ventured into finance, collaborating with prominent figures in the industry, including Steve Cohen and Izzy Englander. However, she eventually expanded her horizons into the skincare realm, investing in small entrepreneurs before establishing her own SMEX company, V Beauty. Over the years, Julie successfully brought her skincare products to the masses, retailing them on home shopping networks and in prestigious boutiques such as Nordstrom and Bergdorf Goodman.
Yet her love for high-end spirits led her down a new path, as she began collecting bottles during her travels worldwide. This passion sparked the creation of her own line of whiskey: The Macklowe Whiskey. It stands as a testament to Julie's entrepreneurial spirit and her ability to adapt when necessary, always following her passions wherever they may lead.
Charlie Walk was elated when he heard about Julie Macklowe's latest creation, a top-tier American malt. With an experienced partner in the industry, Macklowe's venture was bound for success. As one of only 200 registered certified whiskey ambassadors, Macklowe had already earned a respected reputation in the business.
Her exceptional nose skills in identifying and savoring whiskey were unmatched, and her impressive collection of over 1000 bottles further solidified her expertise. Walk was eager to delve deeper and was captivated by Macklowe's journey to introduce this unique type of whiskey to the American market. Macklowe's genuine passion for the craft was evident as she shared her enriching two-week experience at Moonshine University.
Julie Macklowe and Charlie Walk engage in a conversation that delves into Julie's career struggles. They discuss the obstacles she has faced while advocating for American single malt, which has not yet been officially recognized as a category. Despite actively participating in the craft distillers association and lobbying for four years, they are still awaiting approval from the TTB. Nonetheless, The Macklowe Whiskey has been successfully launched, featuring limited edition bottles. Once a collection is sold out, the bottles will no longer be available. Charlie Walk has had the opportunity to taste it and can attest to its exceptional quality and value, despite its potentially higher price point. For collectors and enthusiasts, The Macklowe Whiskey is well worth the investment.
Charlie Walk and Julie Macklowe then delve into the rich history of whiskey, the promising future of The Macklow Whiskey Company, and other captivating topics. It becomes evident that Macklowe's entrepreneurial journey is a testament to her tireless efforts, unwavering determination, and profound passion for the craft of whiskey-making. For those eager to explore further insights about Julie Macklowe and the engaging discussion with Charlie Walk, tune in to the full episode at: https://walk-this-way.simplecast.com/episodes/whiskey-star-chip-julie-macklowe-reinvents-american-whiskey.
Charlie Walk's "Walk this Way" Podcast airs weekly, featuring interviews with various industry trailblazers to delve into their ventures, histories, and unique stories.
Listen here: https://walk-this-way.simplecast.com
Matt Peters
Market Now
email us here
Originally published at https://www.einpresswire.com/article/646895386/walk-this-way-with-charlie-walk-explores-the-revitalization-of-american-whiskey-with-julie-macklowe