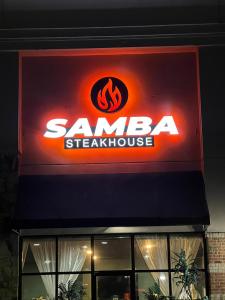 Experience Brazil in Sugar Hill: Samba Steakhouse offers unlimited dining and vibrant Samba performances in its Grand Opening Extravaganza.
Experience artfully crafted dining, where South American cooking traditions are celebrated with a journey from our kitchen to your table."
— Ben Urbanawiz
SUGAR HILL, GEORGIA, UNITED STATES, September 19, 2023/EINPresswire.com/ — Samba Steakhouse Announces Grand Opening Extravaganza in Sugar Hill
Samba Steakhouse, a new culinary destination celebrating the vibrant flavors and rhythms of Brazil, is excited to announce its grand opening at 5690 Cumming Highway Northeast, Sugar Hill, GA 30518. The grand opening festivities will span two weekends, starting on Friday, September 29, 2023.
A Culinary Carnival Awaits

Samba Steakhouse promises an unparalleled dining experience, offering an all-you-can-eat menu featuring succulent steaks, a signature Market Table, and a range of Brazilian delicacies. Guests can expect a fusion of traditional recipes with contemporary twists, ensuring a gastronomic journey that caters to all palates.
Electrifying Entertainment

Complementing the culinary offerings, the grand opening will feature live Samba dance performances. Dancers will captivate guests with their mesmerizing moves, embodying the spirit and passion of Brazil.
Dates to Remember:
Friday, September 29, 2023

Saturday, September 30, 2023

Friday, October 6, 2023

Saturday, October 7, 2023

A Word from the Founder

"Ben Urbanawiz, the visionary behind Samba Steakhouse, expressed, "Our goal is to offer an authentic Brazilian dining experience right here in Sugar Hill. From our carefully curated menu to the live Samba performances, every detail has been crafted to ensure our guests are transported to the heart of Brazil."
Reservations and Media Inquiries

Please visit https://www.sambasteakhouse.net/ or call (678) 541-5277 for reservations. PR Media representatives interested in attending the grand opening, scheduling interviews, or requiring additional information can contact [email protected].
About Samba Steakhouse:

Samba Steakhouse is a culinary haven inspired by Brazil's rich flavors and vibrant culture. Located in Sugar Hill, GA, the restaurant aims to provide an immersive dining experience, blending authentic Brazilian cuisine with live entertainment.
Fabricio Ferraz
bigPromoter
+1 415-326-3747
email us here
Visit us on social media:
Facebook
LinkedIn
YouTube
Other
Originally published at https://www.einpresswire.com/article/656400910/samba-steakhouse-announces-grand-opening-extravaganza-in-sugar-hill