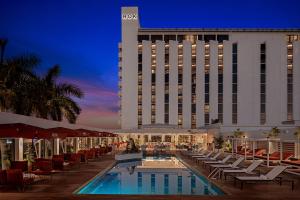 In addition to celebrating its first year in business, the ROK Hotel Kingston won four prestigious awards at Jamaica Observer Table Talk Food Awards in June.
These accolades reinforce our commitment to offering extraordinary culinary experiences that showcase the richness of Jamaican cuisine."
— Stephen Facey, Chairman of Pan Jamaica Group Limited
KINGSTON, JAMAICA, July 28, 2023/EINPresswire.com/ — On the cusp of its one-year anniversary, ROK Hotel Kingston, Tapestry Collection by Hilton is thrilled to celebrate the remarkable achievement of winning four prestigious Jamaica Observer Table Talk Food Awards 2023. These awards recognize excellence in the culinary arts and commend the hotel's commitment to delivering exceptional service and dining experiences.
Since its opening a year ago, ROK Hotel Kingston has established itself as a quintessential hospitality destination, offering an authentically local stay in the vibrant heart of Kingston. Owned by Pan Jamaica Group Limited and managed by Highgate, the 168-room property features 47 suites, providing guests with a world-class hospitality experience that embodies the spirit of Jamaican culture. The ROK Hotel is notably the first Tapestry Collection by Hilton in the Caribbean.
"We are delighted to commemorate our first anniversary, a significant milestone for ROK Hotel Kingston," said Stephen Facey, Chairman of Pan Jamaica Group Limited. "The past year has been filled with memorable moments, and our team's dedication has been recognized by winning four Jamaica Observer Table Talk Food Awards. These accolades reinforce our commitment to offering extraordinary culinary experiences that showcase the richness of Jamaican cuisine."
The hotel's culinary offerings have impressed both guests and critics alike, resulting in the following awards:
1. Chef of the Year: Chef Volae Williams
2. Best Sunday Spot
3. Solomon Gardner Award for Outstanding Service
4. Best Restaurant: Palate
"We are grateful for the recognition bestowed upon us by the Jamaica Observer Table Talk Food Awards," expressed Jacqueline Lejart, Vice President Operations, Luxury & Lifestyle, Highgate.

"These awards are a testament to the dedication of our culinary team in delivering exceptional food that celebrates Jamaica's rich flavors and culinary heritage. We extend our heartfelt gratitude to our talented team members for their outstanding contributions."
ROK Hotel Kingston, Tapestry Collection by Hilton, invites future guests to join in celebrating its first anniversary and enjoy the award-winning culinary offerings that have captivated the taste buds of international visitors and locals alike. Immerse yourself in the vibrant ambiance, exceptional service, and delectable cuisine that makes ROK Hotel Kingston an unparalleled destination in the heart of Kingston.
With proximity to the Norman Manley International Airport, Victoria Pier, Port Royal, Business District, and Kingston's only Convention Center, ROK Hotel Kingston, Tapestry Collection by Hilton has created a gathering place for guests with varying interests to connect and enjoy the creative energy the hotel and surrounding area have to offer. Its location also boasts premium views of Kingston Harbour – the world's seventh-largest natural harbour, and the picturesque Blue Mountain range.
For more information or to make reservations, please visit: ROK Hotel Kingston, Tapestry Collection by Hilton
###

Contact:

Kristen Noffsinger

Senior Vice President, Kreps PR

[email protected]
Marlene Buckridge

Director of Sales and Marketing, ROK Hotel Kingston

[email protected]
About Pan Jamaica Group Limited
Pan Jamaica Group Limited is a Caribbean-based, multifunctional business group. It acquires, holds and manages market-leading business interests in four segments: Property & Infrastructure, Financial Services, Global Services and Specialty Food & Drink. The Property & Infrastructure and Financial Services interests have their primary footprint in the Caribbean. The Property & Infrastructure portfolio includes offices, retail space, hotels and other commercial real estate. The Financial Services interests include banking, insurance, investment management and pension fund administration. The Global Services group includes shipping and logistics, tourism and attractions, and business process outsourcing interests that have a Caribbean nexus but serve a global client base. The Specialty Food & Drink segment has food manufacturing and agri-business operations in Europe and the Americas. Pan Jamaica Group, together with its subsidiaries and associated companies, employs over 7,000 people. It is listed on the Jamaica Stock Exchange, and its oldest enterprises have been in continuous operation for over 90 years.
About Tapestry Collection by Hilton:

Tapestry Collection by Hilton is a portfolio of over 100 original hotels that offer guests unique style and vibrant personality, encouraging them to connect to their destination and enjoy authentic, off-the-beaten-path experiences. While each property has a unique story to share that comes to life through uplifting design and unique food & beverage, every Tapestry Collection property is united by the reliability that comes with the Hilton name, in addition to the benefits of the award-winning Hilton Honors program. Experience Tapestry Collection by Hilton by booking at tapestrycollectionbyhilton.com or through the industry-leading Hilton Honors app. Hilton Honors members who book directly through preferred Hilton channels have access to instant benefits. Learn more about Tapestry Collection by Hilton at stories.hilton.com/tapestry, and follow the brand on Facebook, Instagram and Twitter.
About Highgate:
Highgate is a leading real estate investment and hospitality management company widely recognized as an innovator in the industry. Highgate is the dominant player in major U.S. gateway cities including New York, Boston, Miami, San Francisco and Honolulu, with a growing footprint in Europe, the Caribbean and Latin America. The hospitality forward company provides expert guidance through all stages of the property cycle, from planning and development through recapitalization or disposition. Highgate has a proven record of developing its diverse portfolio of bespoke lifestyle hotel brands, legacy brands, and independent hotels and resorts with contemporary programming and digital acumen. The company utilizes industry-leading revenue management tools that efficiently identify and predict evolving market dynamics to drive outperformance and maximize asset value. With an executive team consisting of some of the most experienced hotel management leaders, the company is a trusted partner for top ownership groups and major hotel brands. Highgate maintains corporate offices in New York, Dallas, Los Angeles, Miami, Seattle, Waikiki and London. www.highgate.com.
Kristen Noffsinger
Kreps PR & Marketing
+1 954-464-7388
[email protected]
Originally published at https://www.einpresswire.com/article/646297223/rok-hotel-kingston-celebrates-first-anniversary-by-winning-four-jamaica-observer-food-awards