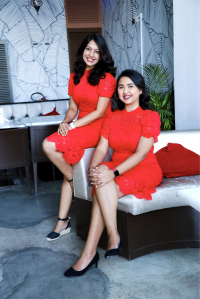 Skandashree & Kejal – Co-Founders of Pawland, UAE
Pawland Logo
Providing personalised pet sitting services on demand with a network of 350+ professionals across UAE
DUBAI, UNITED ARAB EMIRATES, October 11, 2023 /EINPresswire.com/ — Pawland, a rising star in the pet care industry, is thrilled to announce its remarkable success as the go-to company for pet sitting, pet boarding, and dog walking services in the United Arab Emirates. In a short span of time, the company has achieved impressive milestones, catering to over 500+ happy customers, while maintaining exceptional customer service and garnering five-star reviews.
Pawland has rapidly become a trusted name among pet owners across the UAE, setting new standards in the industry by providing personalized services tailored to the unique needs of pets and their devoted parents. The company's dedication to creating a stress-free and comfortable environment for both pets and their owners has earned it a stellar reputation.
Key Highlights of Pawland's Success:
Unparalleled Customer Satisfaction: Pawland takes pride in its unwavering commitment to delivering top-notch customer service. Their team of experienced pet care professionals goes above and beyond to ensure that pets and their owners feel cared for and appreciated.
"The team at Pawland are great. I've been using them recently for our new puppy and they arrive on time and look after our puppy so well. Highly recommend to anyone looking for pet sitters in Dubai. Really take care of your pets and send constant updates. Brilliant service", says Tara a happy customer.
Impressive Customer Retention: With over 1400+ repeat orders, Pawland's ability to build lasting relationships with its clients speaks volumes about the trust and satisfaction it instills in its customers.
"We booked Pawland's services twice with their pet sitter. She took a great care of our fur babies when we were away for 15 days. Team pawland was very responsive whenever we contacted them. I will definitely recommend their services if you would like to leave your pets in trusted care", says Monisha who is a loyal repeat customer to the company.
Glowing Reviews: Pawland has amassed an impressive collection of five-star reviews from satisfied pet owners who have experienced the company's exceptional care and service.
"The experience with Pawland was awesome! We were out of country for two weeks and had their sitter take care two of our cats, we had daily updates on our cats with no lack of communication. The sitter was especially positive and open minded with the cats, we had videos sent to us daily, it was so. I definitely recommend using Pawland", says Amna another satisfied customer.
Extensive Network of Pet Sitters: With more than 350+ registered pet sitters, Pawland has a vast network of trained professionals who are passionate about animals and dedicated to ensuring pets receive the best possible care.
"I have been a pet sitter with Pawland for more than a year now. They are extremely professional when taking care of us as pet sitters. They give attention to every detail while giving us orders and constantly take updates from us. Their salaries are paid on time and they support us every step of the way", says Kate a pet-sitter with Pawland.
Tailored Services: Pawland understands that each pet is unique, and their needs can vary greatly. This is why the company offers personalized services designed to meet the specific requirements of every pet and their owner.
Pawland's Co-Founders Skandashree & Kejal, expressed their gratitude for the tremendous success the company has achieved within a short span of time. "We are honored to be the preferred choice for pet care services in the UAE. Our mission is to provide the best care and attention to pets while offering peace of mind to their owners. We look forward to continuing to serve the pet community and exceeding their expectations."
Pawland's remarkable journey in the pet care industry is a testament to its unwavering commitment to exceptional service and genuine care for pets. As the company continues to grow and expand its services, it remains dedicated to enhancing the lives of pets and pet parents across the United Arab Emirates.
Skandashree Bali
Pawland Domestic Pets Boarding LLC
+971 58 289 6883
[email protected]
Visit us on social media:
Facebook
LinkedIn
Instagram
YouTube
Booking a pawsome sitter with Pawland


Originally published at https://www.einpresswire.com/article/659278238/pawland-a-household-name-to-pet-parents-in-uae