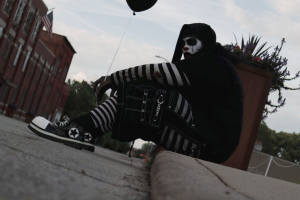 NEW YORK, NY, USA, September 8, 2023/EINPresswire.com/ — The clown uprising has begun! There has been a sudden surge of clowns online and in media. Clowncore fashion and makeup and even clown content creators are breaking into the mainstream. However being a clowns is not all confetti and cotton candy as Klowniac describes in it's new song.
Sitting somewhere between the cure, the smiths, and a south park parody, Klown themed artist, multi-instrumentalist, songwriter, and internet personality Klowniac has conjured a banger that captures the essence of late 1900s music. It's darkwave, altrock and post-punk influences can definitely be recognized while simultaneously sprinkling in it's own fun and sinister clown-esque sound to add a playful undertone to the otherwise disturbing lyrics.
Like most of Klowniac's music the meaning behind the song is ambiguous and can be taken multiple ways. Whether Clownspiracy is a song about dealing with the rammifications of coulrophobia or the direct actions that caused it, one thing we know for certain is the catchy tune is fun to listen to and sure to keep coulrophobes and caulrophiles alike screaming for more.
Song Genre: Darkwave, Postpunk, Alt-rock
Song URL: https://open.spotify.com/track/4DNYkyvkxKPiGyf3gOYXpx?si=ZDSAs5aYTs2QIDK13-4khg&utm_source=copy-link
Website: https://klowniac.com
Klowniac
Klowniac
[email protected]
Visit us on social media:
Facebook
Instagram


Originally published at https://www.einpresswire.com/article/654564265/klowniac-creates-catastrophically-catchy-song-clownspiracy