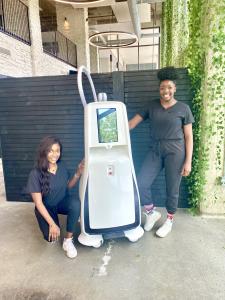 EON is the first touchless, robotic device in Baltimore, Maryland advancing body contouring.
As leaders in the aesthetic industry, InVein Aesthetics continues to invest in the most cutting edge technologies that elevate patient experiences with the best outcomes."
— Shawnta Renee
BALTIMORE, MARYLAND , UNITED STATES , November 6, 2023 /EINPresswire.com/ — InVein Aesthetics is pleased to announce that they are now specializing in EON body contouring treatments and are the first medical spa in Baltimore, Maryland to offer this technology.
The EON laser technology will allow InVein Aesthetics to offer their clients in Baltimore, Maryland and the surrounding areas a non-invasive body contouring treatment that permanently eliminates fat cells without the downtime of a surgical procedure. EON treatments are ideal for clients trying to target those stubborn areas of fat that diet and exercise cannot improve and have a high patient satisfaction rate.
"We are thrilled to introduce the EON Laser Body Contouring device to our clinical practice! As leaders in the aesthetic industry, InVein Aesthetics continues to invest in the most cutting edge technologies that elevate patient experiences with the best outcomes." said Shawnta Renee, CEO and founder of InVein Aesthetics. "The arrival of the EON Laser Body Contouring device reaffirms our dedication to staying at the forefront of innovation, ensuring that our clients receive the most remarkable and efficient treatments available!" stated co-founder Rebecca Jean Paul.
EON is a 1064nm laser that's currently FDA-cleared for flanks, full abdomen, back, and thighs and is backed by years of research and industry-leading scientist and doctors. With its state-of-the-art robotic precision, EON can simultaneously deliver laser energy and cooling for a more comfortable body contouring treatment experience without post-treatment care or downtime.
The device is designed with touchless, autonomous technology that maps the patient's topography for personalized treatments. The device utilizes over 40 safety sensors for advanced patient safety, including skin proximity and temperature detection. EON heats adipose tissue to a temperature of approximately 123.8° F, inducing cell death or apoptosis. The state-of-the-art jet impingement cooling system maintains the external skin temperature to around 103.1°F for a comfortable patient experience.
Who is a candidate for EON?

Anyone looking to permanently reduce stubborn fat in the upper / lower abdomen, flanks, back, or thighs.

People looking for a non-invasive solution for body sculpting that doesn't interrupt their normal daily schedule.

Manageable BMI of 30 or less

No contraindications and precautions acknowledged

People able to "pinch an inch" in the treatment area
Provider studies show that patients experienced a 21.6 – 25 percent average fat reduction after a single 60-minute abdominal treatment, while some people lost as much as 40 percent.
Dominion Aesthetic Technologies, maker of EON Smarter Body Contouring, CEO Cooper Collins, also shared his enthusiasm for the collaboration: "We are honored to partner with InVein Aesthetics. EON's advanced technology and intelligent design make it a game-changer in the aesthetic industry. Our goal is to provide patients with a transformative experience, and we are confident that InVein will deliver outstanding results."
To find more information about InVein Aesthetics and book an EON consultation, visit their website at https://inveinspa.com/ or call 443-738-0144.
Shawnta Cazeau
InVein Aesthetics
+1 (443) 738-0144
email us here
Originally published at https://www.einpresswire.com/article/665984125/invein-aesthetics-introduces-eon-a-smarter-body-contouring-experience