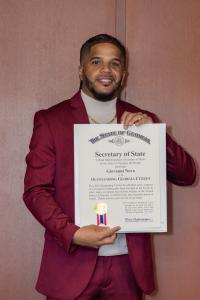 ATLANTA, GEORGIA, USA, September 29, 2023 /EINPresswire.com/ — International Nova, the celebrated Dominican Rap artist and entrepreneur, has been honored with the prestigious Georgia Outstanding Citizen Award in recognition of his exceptional contributions to the community. The award ceremony took place on Thursday, September 28, at the Georgia State Capitol in Atlanta, where State Representative Park Cannon presented the esteemed accolade on behalf of Georgia's Secretary of State, Brad Raffensperger.
Nova's impact reaches far beyond his successful music career. In partnership with Bold.org, he initiated the Eli Scholarship program, a heartfelt tribute to his late aunt, Elizabeth. The Eli Scholarship's mission is to provide crucial support to underrepresented Hispanic single women pursuing undergraduate degrees in music or business.
Applicants are required to submit compelling essays outlining their qualifications for the scholarship, along with a minimum GPA of 2.8. The program aims to annually award scholarships to four deserving students through Bold.org, with an initial fundraising goal of $4,000.
International Nova's dedication to youth empowerment materialized in 2018 with an initiative focused on emphasizing the significance of reading and academic diligence among middle school students, guiding them toward educational success.
In January 2024, International Nova will take a monumental step by establishing the Eli Motherhood Foundation, dedicated to offering opportunities and assistance to women and youth from diverse ethnic backgrounds
His commitment to animal welfare and the community is further evident through his role as Brand Ambassador for Lifeline Animal Project, Georgia's largest animal advocacy organization.
"Being raised in the projects of the Bronx, my mother instilled in me the importance of giving back to our community. I moved to this great state of Georgia, and Atlanta embraced me as one of its own. I am so humbly grateful to Park Cannon for presenting me with this award; it means a lot to me. I want to thank God for making this possible. Without God, there is no me. I give back not for fame or notoriety but because it comes from my heart. Thank you so much," expressed International Nova.
Beyond his philanthropic pursuits, International Nova has made a significant mark in the music industry. Originally from the Bronx, New York, and now a proud resident of Atlanta, Nova has distinguished himself with his unique musical style, resulting in chart-topping hits and collaborations with renowned artists such as Tony Sunshine, Petey Pablo, Ne-Yo and many more.
Fans can eagerly anticipate Nova's upcoming album, scheduled for release in October, featuring the hit single "Controla."
As we celebrate the enduring legacy of the Eli Motherhood Foundation, we simultaneously applaud International Nova for his remarkable contributions to the music industry and his unwavering commitment to creating positive change in society.
For the latest updates and further insights into International Nova's inspirational journey, please follow him on social media @internationalnova.
Lesley Logan
Upscale PR
email us here
Originally published at https://www.einpresswire.com/article/658532758/international-nova-receives-georgia-s-outstanding-citizen-award-for-remarkable-civic-and-philanthropic-efforts