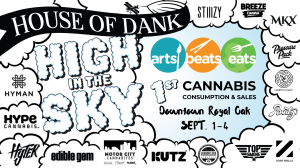 HOD Dankland & Dank Way – Royal Oak | September 1st – 4th
Arts, Beats & Eats Embraces Cannabis Culture with House of Dank 2023
House of Danks Dankway will be a dedicated space for cannabis sales & consumption while Dankland will consist of a stage and lounge areas at Arts, Beats & Eats
ROYAL OAK, MICHIGAN, USA, August 18, 2023/EINPresswire.com/ — September 1st-4th – House of Dank, a trailblazing name in the cannabis industry, is ecstatic to announce its return as the presenting sponsor of Arts, Beats & Eats for the third consecutive year. The iconic festival, renowned for its celebration of art, music, and food for over two decades, is set to make history this year with the introduction of House of Danks High In The Sky Activation: Dankland & Dankway. Dankway will be a dedicated space for cannabis sales and consumption while Dankland will consist of a stage and lounge areas. This innovative endeavor positions Arts, Beats & Eats as one of the first major events to pioneer such a groundbreaking concept, showcasing the growing acceptance and cultural significance of cannabis.
Arts, Beats & Eats has long been a vibrant platform for promoting the quality of life in Oakland County by showcasing exceptional artists, musicians, and culinary talents from Metro Detroit and beyond. This year, with the addition of Dankway, located thoughtfully on Seventh Street, between Washington Avenue and Main Street, the festival embarks on a new chapter in its illustrious history. Dankway has received full approval from the state of Michigan's Cannabis Regulatory Agency and the city of Royal Oak, ensuring a safe and responsible environment for festival-goers over the age of 21 to indulge in cannabis products.
To guarantee a seamless and secure experience, House of Dank will be ensuring strict age verification measures, robust security personnel, and stringent safety protocols will be in place throughout Dankway. Moreover, Dankway has been strategically placed away from family attractions and other festival booths, and features visually enclosed spaces equipped with state-of-the-art ventilation fans, creating a comfortable and enjoyable atmosphere for all participants.
Get ready for an unparalleled experience in Dankland within Arts, Beats & Eats. Discover limited edition merch, interactive photo opps, yard games, and VIP lounges, all designed to create the ultimate paradise. Live performances, including fire breathers, aerialists, fashion shows, DJs, and some of Michigan's up and coming artists, will keep the energy high. At night, immerse yourself in a dreamy atmosphere with LED clouds, fog, and glow sticks, while giant balloons and beach balls add to the fun. House Of Dank is bringing the Ultimate Grand Prize, a 2023 Jeep Wrangler 4XE Rubicon. But wait, there is more….. Dankway introduces a groundbreaking concept, offering retail sales of premium cannabis brands and a dedicated on-site consumption area for those 21+. This innovative event, "High in the Sky," merges Dankland and Dankway, delivering an unforgettable blend of cannabis culture, art, and entertainment.
House of Dank is proud to collaborate with a remarkable lineup of brand partners that share our commitment to innovation and excellence. We extend our sincere gratitude to our amazing brand partners – STIIIZY, Breeze, MKX, Top Smoke, Grandiflora, North Coast, Pressure Pack, Runtz, Zootz, HYMAN, Hype, Edible Gem, Kutz, Hytek, Motor City Cannabites, Live Life Federal Credit Union, and HydroDepot. Their support plays a crucial role in making Dankway a reality and enhancing the overall Arts, Beats & Eats experience.
Marvin Jamo, the visionary Owner of House of Dank, expressed his profound excitement, stating, "Being at the forefront of cannabis innovation is at the heart of our mission at House of Dank. We are thrilled to collaborate closely with Jon Witz and the Arts, Beats & Eats team, as well as the state of Michigan, to introduce this designated cannabis area, setting a new standard for responsible cannabis consumption at major festivals."
The fusion of art, music, food, and cannabis is set to create an unforgettable experience for festival-goers. Dankway will stand as a captivating focal point within the festival, offering an impressive array of top-quality cannabis products and interactive activities. Dankway promises to be a journey into the exciting world of cannabis, catering to both seasoned enthusiasts and curious newcomers.
Marvin Jamo, remarked, "We are proud to be part of an event that celebrates the arts and brings people together. Our goal is to create an inclusive and educational space where attendees can learn about cannabis benefits and enjoy it responsibly."
Arts, Beats & Eats is scheduled to take place from September 1st-4th, promising an extraordinary weekend filled with creativity, entertainment, and a momentous occasion for the cannabis industry. House of Dank extends a warm invitation to all cannabis enthusiasts and festival lovers, urging them to join in experiencing Dank Land at Arts, Beats & Eats, as the festival continues to embrace cultural diversity and foster a sense of unity through artistic expression and cannabis culture.
About House of Dank: House of Dank is a pioneer in providing world-class cannabis products. Michigan's oldest retailer, House of Dank boasts an extensive selection of medical and recreational flower, vaporizers, concentrates, edibles, merch, CBD, and more. The talented H.O.D. team possesses vast knowledge of the medical and therapeutic benefits of cannabis and remains committed to ensuring every consumer receives the perfect product. When you choose House of Dank, you can expect industry-leading care, expertly crafted products, and unmatched guest servicing. For more information, visit shophod.com or follow the company on Instagram and Facebook.
Note: This press release offers a glimpse of the upcoming event and captures the essence of Arts, Beats & Eats. Additional details about the festival's lineup, exhibits, and other sponsors will be provided in subsequent press releases as the event date approaches.
For media inquiries or interview requests, please contact: [email protected]
Angela
House of Dank
[email protected]
Visit us on social media:
Facebook
Twitter
LinkedIn
Instagram


Originally published at https://www.einpresswire.com/article/650675868/house-of-dank-unveils-high-in-the-sky-historic-cannabis-experience-at-arts-beats-eats-celebrating-creative-culture