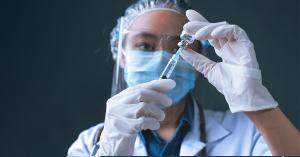 FDA Approves First RSV Vaccine Arexvy®: Groundbreaking RSV Vaccine Marks Milestone in Respiratory Infection Prevention
DrugTestKitUSA Logo
FDA's approval of the first RSV vaccine heralds a new era in public health. DTKUSA, a testing solutions provider, steps forward with crucial testing support.
WOODLAND HILLS, CALIFORNIA, UNITED STATES, August 8, 2023/EINPresswire.com/ — DrugTestKitUSA celebrates the FDA's approval of the first respiratory syncytial virus (RSV) vaccine Arexvy®, a major milestone in the prevention of this common respiratory infection. Arexvy® is a trademark of GlaxoSmithKline Biologics.
The FDA's approval of the new RSV vaccine, indicated for individuals aged 60 and older, marks a significant breakthrough in the fight against the respiratory syncytial virus, a leading cause of respiratory illness, particularly in young children and older adults. The availability of an effective vaccine brings new hope for preventing the spread of RSV and reducing its impact on vulnerable adult populations.
According to the U.S. Centers for Disease Control and Prevention, each year in the U.S., RSV leads to approximately 60,000-120,000 hospitalizations and 6,000-10,000 deaths among adults 65 years of age and older.
DrugTestKitUSA is committed to providing accurate and reliable testing solutions to support healthcare professionals in their efforts to combat RSV. With its extensive range of RSV testing products, including antigen detection kits and molecular assays, DrugtestkitUSA enables efficient and timely testing, allowing for early detection and appropriate management of RSV infections. To order and learn more about the RSV testing products, please visit DrugTestKitUSA RSV Antigen Tests.
By implementing robust testing procedures, healthcare providers can closely monitor RSV infection rates and identify potential outbreaks, allowing for timely interventions and effective containment measures.
For healthcare providers and organizations seeking reliable RSV testing supplies, DrugTestKitUSA offers a comprehensive range of high-quality products. With a focus on accuracy, reliability, and ease of use, the team at DTKUSA plays a vital role in supporting the effective prevention and management of respiratory infections.
In addition to its commitment to accurate and reliable testing, DrugTestKitUSA remains dedicated to providing education and resources to healthcare professionals, organizations, and individuals.
As a trusted provider of rapid point-of-care (POC) diagnostics since 2016, they have been offering a wide range of high-quality products, including drug test kits, COVID antigen test kits, and RSV test kits, to support testing and screening procedures in a variety of settings.
To access DrugTestKitUSA's range of rapid POC diagnostics, including RSV testing kits, please visit: DrugTestKitUSA.com
DTK USA
Drug Test Kit USA
+1 866-205-9215
[email protected]
Visit us on social media:
Facebook
LinkedIn
Other
Originally published at https://www.einpresswire.com/article/648916935/fda-approves-first-rsv-vaccine-drugtestkitusa-provides-essential-testing-solutions-to-support-immunization-efforts