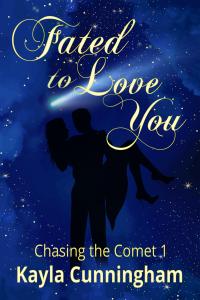 Bestselling author Kayla Cunningham releases her latest romance novel, "Fated to Love You," now available on Amazon.com.
SANTA CRUZ, CA, UNITED STATES, July 18, 2023/EINPresswire.com/ — Bestselling author Kayla Cunningham releases her latest romance novel, "Fated to Love You," now available on Amazon.com.
Readers are in for an unforgettable journey of love, fate, and the enduring power of connection in this exquisite masterpiece. The book tells the epic love story of Cassandra and Xuan and their intertwining destinies that will leave readers breathless. As their love blossoms, they must navigate the complexities of Xuan's battle with cancer and the prejudices they encounter due to their interracial relationship.
Cunningham's unparalleled storytelling, unforgettable characters, and evocative prose make this book a must-read for romance enthusiasts and anyone seeking a truly extraordinary reading experience. From lush landscapes to intimate moments, Cunningham transports readers into the heart of the story, painting a picture so vivid it feels as if you are stepping into the scenes alongside the characters.
At its core, "Fated to Love You" explores the belief in fate and destiny and how certain souls are destined to meet and profoundly impact each other's lives. The way the author intricately weaves together the threads of fate throughout the story is nothing short of brilliant, keeping readers on the edge of their seats, eagerly awaiting the next revelation.
This literary masterpiece is receiving rave reviews, with readers describing it as an "unforgettable journey of love," a "perfect 5-star masterpiece," and a "captivating and heartfelt romance." Cunningham's ability to capture the magic of destiny is pure brilliance, leaving readers believing in the extraordinary power of love and the captivating possibilities of our intertwined fates.
Kristi Elizabeth from Portland Book Review said "The plot was wonderful as were the characters. Each character showed such intricate feelings and emotions. I also liked the story of an Asian American and a Caucasian American because there don't seem to be that many books with that relationship dynamic. It was clear that Author Kayla Cunningham did a stunning amount of research on all of the topics she addressed in this book. From Asian culture and customs to cancer protocol and the procedures doctors and hospitals take to the scenery of her settings in Colombia and the San Francisco Bay Area, Kayla's attention to detail is outstanding. More than just a romance, Fated to Love You brings to life the struggles of two very realistic characters. I am looking forward to the second book in this series."
If you're in the mood for a captivating and heartfelt romance, "Fated to Love You" is an absolute must-read. It will whisk you away on a roller coaster of emotions, leaving you with a lingering smile and a renewed faith in the remarkable power of love.
"Fated to Love You" is available for purchase now on Amazon.com and with every copy sold of this first novel, a percentage of the proceeds will be donated to two organizations that are close to the story and the protagonist's heart: the Amazon Conservation and Save the Children. These charities are tirelessly working towards conserving the Amazon rainforest and improving the lives of underprivileged children in Latin America.
Author Kayla Cunningham will be doing a personal appearance at the Capitola Branch Library, 2005 Wharf Rd, Capitola, CA 95010, on Saturday, July 29th at 11:00 AM.
More information about Fated to Love You and Kayla Cunningham can be found at kaylacunninghamauthor.com and she can be reached at [email protected]
Kayla Cunningham
email us here
Kayla Cunningham
Originally published at https://www.einpresswire.com/article/644998050/fated-to-love-you-gets-4-5-star-review-from-portland-book-review