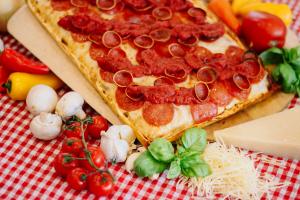 Owners of Different Dough Pizza Co., Brian and Raechael Krikorian, bring New York-style and Detroit-style pizza to Arkansas with a new restaurant in town.
BRYANT, ARKANSAS, USA, July 18, 2023/EINPresswire.com/ — Different Dough Pizza Co. aims to bring the best of Detroit-style and New York-style pizza with a twist of trendiness that will elevate the pizza experience to new heights. Owners, Brian and Raechel Krikorian, got married in their own pizza restaurant earlier this year before the grand opening and have devoted their lives to building a future together with a mutual passion for pizza-making. As the couple and new pizza restaurant owners explain, the difference is in the crust.
New York-style pizza can generally be characterized by its simplicity, quality ingredients, and delicious taste. New York-style pizza is known for its large, wide slices that are foldable and meant to be eaten with your hands. The crust is thin and crispy on the edges but has a chewy texture in the center.
Detroit-style pizza is known for its crispy, cheesy crust and unique shape, and it has gained popularity in recent years as a delicious and distinctive style of pizza. Its crust is typically thick and rectangular or square in shape, with crispy edges and a soft, airy inside. Unlike traditional pizza, which is often baked directly on a stone or in a wood-fired oven, Detroit-style pizza is baked in a rectangular or square pan, which gives it its distinctive shape and texture.
Brian Krikorian attended the International School of Pizza and mentored under its founder, Tony Gemignani. Tony Gemignani is a highly skilled and passionate pizza chef who has dedicated his life to perfecting the art of pizza-making. He is a 13-time World Pizza Champion and has won numerous prestigious awards for his expertise in various pizza styles. With over two decades of experience in the industry, Tony is regarded as one of the foremost authorities on pizza. Recognizing the need to share his knowledge and skills with aspiring chefs and pizza enthusiasts, Tony established the International School of Pizza.
"What we are trying to do is offer something to this area that has never been offered before. We have two different styles of pizza. We have a New York-style pizza and we have a Detroit-style pizza. So far it has been absolutely outstanding. The community has really come around us and helped us be successful so far. The goal of this is to elevate what pizza can be. Toppings are something anyone can buy, tomatoes are tomatoes, but the dough is something that is different in every restaurant because it's the one thing a pizza chef has the most control over. The dough is the stand out of a pizza," say Brian Krikorian.
Raechel Krikorian had a dream as a child to open up a pizza food truck and spent her life learning about the restaurant industry from working in a pizza shop and at multiple Chick-fil-A restaurants. Brian had a similar dream growing up in his family's pizza restaurant and learning how the restaurant business works through jobs with his family and at Chick-fil-A. Raechel and Brian originally met at their Chick-fil-A jobs where they discovered their mutual interests and fell in love. Raechel and Brian Krikorian held the grand opening of Different Dough Pizza Co. at 3614 Market Place Ave., Suite 1, Bryant, Arkansas on May 31, 2023.
Dine-in and carry-out options are available.
Peruse Different Dough Pizza Co.'s menu below.
Appetizers
Garlicky Breadsticks
Breadsticks topped with a house made garlic oil
Cheesy Breadsticks
Garlicky breadsticks topped with melted mozzarella
New York Style
Cheese
Your standard cheese pizza that has been elevated to include a blend of cheeses: mozzarella, provolone, white cheddar, and parmesan
Pepperoni
A red sauce pizza with mozzarella and cup-n-char pepperoni on top
The Great Debate
Red sauce, mozzarella, Canadian bacon, pineapple, and jalapenos
Parma
Red sauce, mozzarella, and heirloom tomatoes topped with arugula, prosciutto, and freshly grated Parmesan cheese
Cup-n-Comb
Red sauce, mozzarella, and cup-n-char pepperoni, and hot italian sausage drizzled with Mike's Hot Honey.
Blanco
White pizza with mozzarella, bell peppers, mushrooms, arugula, and spinach
Margherita
Red sauce, fresh mozzarella, heirloom cherry tomatoes, basil, and an olive oil drizzle
Supreme
Red sauce, classic pepperoni, mild Italian sausage, Canadian bacon, mushrooms, red onions, black olives, and bell peppers
Build Your Own New York
The DIY version of our pizza with red sauce and white cheddar/mozzarella blend, and toppings
Detroit Style
Double Pepperoni Detroit
Red sauce, cheddar/mozzarella blend around the edge, with both classic and cup-n-char pepperoni and mozzarella
Cup-n-Comb Detroit
Red sauce, cheddar/mozzarella blend around the edge, with cup n' char pepperoni, hot Italian sausage, mozzarella, and a drizzle of Mike's Hot Honey
Squealer Detroit
Red sauce, cheddar/mozzarella blend around the edge, with Canadian bacon, mild Italian sausage, hot Italian sausage, and mozzarella
Build Your Own Detroit
Our DIY version of our Detroit style pizza with red sauce and a white cheddar/mozzarella blend, and toppings
Calzone
Pepperoni Calzone
Filled with a white cheddar/mozzarella blend and pepperoni with a red sauce
Cheese Calzone
Calzone made with a blend of mozzarella, provolone, white cheddar, and parmesan with a red sauce
Build Your Own Calzone
Start with red sauce and a blend of cheeses then DIY it with additional toppings
Desserts
S'mores
A rectangular pizza with Nutella, marshmallows, and graham crackers
Chocolate Heaven
A rectangular pizza topped with Nutella, M&Ms, and Reese's
Brian Krikorian
Different Dough Pizza Co.
+1 501-943-2295
email us here
Visit us on social media:
Facebook
Originally published at https://www.einpresswire.com/article/645004994/different-dough-pizza-co-opens-doors-to-new-restaurant-in-bryant-arkansas