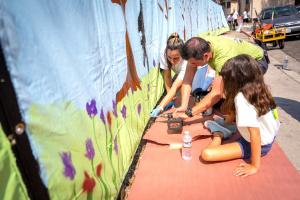 Church of Scientology Celebrity Center upgrades the community with colorful murals.
LOS ANGELES, CALIFORNIA, UNITED STATES, June 29, 2023/EINPresswire.com/ — A new 178-foot mural has transformed a stretch of Hollywood just off the 101 Freeway. The canvas creation honors "Man's best friends" and other members of the animal kingdom.
Three street artists helped design and outline the project. They were joined by a team of volunteers including an off-duty firefighter, a military veteran, two police officers and a mariachi musician. The project was organized by the Church of Scientology Celebrity Center as part of its monthly neighborhood "Hollywood Village" cleanup.
The mural features two cats and 22 dogs—from the smallest, a Chihuahua, to a Tibetan Mastiff and two K9 dogs and their handlers. The painting also pays tribute to local wildlife, from squirrels to monarch butterflies and hummingbirds, and from the coyotes who make their homes in the hills overlooking Hollywood to "P-22"—a wild puma who lived for more than a decade in Griffith Park and was buried in March in the Santa Monica Mountains.
Residents honked their horns and waived their thanks as they drove or walked by the volunteers. Two young girls and their father, who live nearby, were so taken by the activity they joined in, painting several of the dogs.
"I live up in the hills and pass by here all the time," said another resident who was concerned with the poor appearance of this stretch of the neighborhood before the volunteers cleaned it up. "This is incredible. I am very grateful to you all."
A veteran was particularly moved by the inclusion in the mural of a wheelchair-bound wounded warrior. And a member of an animal rights group stopped by to thank the team for promoting the love of animals.
The monthly Hollywood Village cleanups are a community partnership of the Church of Scientology Celebrity Centre, The Way to Happiness Foundation and the Los Angeles Police Department. Volunteers load up with shovels, brooms and bags—and the recent addition of art supplies—at the Church of Scientology Celebrity Centre.
By survey, the two main concerns of Hollywood residents are the plight of the homeless and keeping Hollywood beautiful, safe and clean. Hollywood Village addresses both by cleaning up the neighborhood including homeless encampments and handing out The Way to Happiness, the common-sense guide to better living by author and humanitarian L. Ron Hubbard. People of all faiths or none can use the book's 21 precepts to help them, those they love, and people they meet live less dangerous and happier lives.
Visit the Hollywood Village Facebook for notification of upcoming cleanups. All are welcome.
To learn more about The Way to Happiness, visit The Way to Happiness website or watch The Way to Happiness book on film on the Scientology Network.
Media Relations
Church of Scientology International
+1 323-960-3500
email us here
Visit us on social media:
Facebook
Twitter
Instagram


Originally published at https://www.einpresswire.com/article/642157320/the-church-of-scientology-committed-to-making-hollywood-beautiful-safe-and-clean