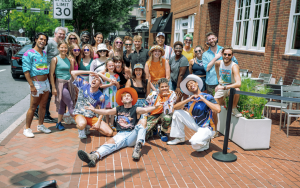 Nashville flash mob rehearsing at AB Hillsboro Village. Photo by John Jo.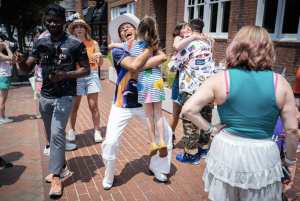 Bob's Dance Shop and Nashville flash mob dancers. Photo by John Jo.
Video of the surprise June 16 dance flash mob in Nashville, led by Bob's Dance Shop with the help of AB Hillsboro Village, has become a TikTok phenomenon.
NASHVILLE, TENNESSEE, UNITED STATES, July 28, 2023/EINPresswire.com/ — TikTok has just turned the video of Nashville's "Footloose" flash mob into a viral sensation. The video of Bob's Dance Shop bringing the community together during Pride Month to dance in the streets of Hillsboro Village has racked up over 14 million views and counting in just the first four days since it was posted on TikTok.
On June 16, Bob's Dance Shop, the collective the New York Times recently called "world-class vibe curators," joined forces with Nashville music and event venue AB Hillsboro Village to prep interested locals for an impromptu public dance party in front of the iconic Pancake Pantry set to Kenny Loggins' '80s hit song "Footloose."
A celebration of Pride, inclusivity, and love, the event, dubbed a "Flash Bob," drew over three dozen non-professional participants to rehearse at AB Hillsboro Village before heading to the sidewalk in front of Pancake Pantry to delight and engage passersby through music and dance.
Posted on July 23, video of the Nashville "Flash Bob" has already been watched 14 million times across TikTok, Instagram, and Facebook, exponentially building on Bob's Dance Shop's Coachella "Flash Bob" with surprise guest Paula Abdul.
"Everyone came to be a part of a community," says AB Hillsboro Village co-owner Marcie Allen Van Mol, whose inclusive venue regularly hosts LGBTQIA+ events and is producing the women-led AB Block Party on Labor Day in the Belcourt Theatre parking lot. "The world is crazy right now but there are people who want to spread the message of love. We need more of this in our city. This video makes me realize there is still hope."
ABOUT AB HILLSBORO VILLAGE:

Located in the heart of Hillsboro Village, AB (formerly the restaurant Anzie Blue) is a 4,000-square-foot live music and event venue co-owned by Marcie and Derek Van Mol, catering to locals and designed by Savage Interior Design to inspire creativity. With a capacity of 250, AB is equipped to host a variety of events — from live music to comedy shows and beyond — that appeal to Nashville locals.
For press inquiries, please email [email protected]
For more information about AB Hillsboro Village, visit AnzieBlue.com.
Derek Van Mol
AB Hillsboro Village
[email protected]
Visit us on social media:
Facebook
Instagram
TikTok


Originally published at https://www.einpresswire.com/article/646935261/bob-s-dance-shop-turns-nashville-pride-flash-mob-into-viral-sensation