Tiana, resident nutritionist expert, delights a customer with a flavorful creation in the raw food kitchen at AWAREmed.
Dr. Akoury (M), alongside nutrition experts Jane (L) and Tiana (R), brings expertise and passion to the raw food kitchen at AWAREmed Wellness Center, creating a vibrant culinary haven for health-conscious individuals.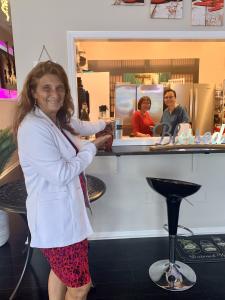 Renowned holistic expert Dr. Akoury radiates excitement as she proudly presents the newly unveiled raw food kitchen at AWAREmed Wellness Center, a testament to her unwavering commitment to nourishing the mind, body, and soul.
Embodying Transformation and Harmony: The AWAREmed logo symbolizes our holistic approach to wellness, uniting mind, body, and spirit for optimal well-being. Join us on a transformative journey towards lasting health.
Embracing the Power of Raw Food Nutrition to Fuel Vibrant Health and Vitality
The food you eat can be either the safest and most powerful form of medicine, or the slowest form of poison."
— Ann Wigmore
JOHNSON CITY, TENNESSEE, UNITED STATES, June 29, 2023/EINPresswire.com/ — AWAREmed Wellness Center Announces the Arrival of a Cutting-Edge Raw Food Kitchen, Helmed by Dr. Akoury
AWAREmed Wellness Center is thrilled to announce the upcoming launch of its highly anticipated Raw Food Kitchen, led by the esteemed Dr. Dalal Akoury. This exciting addition showcases the center's commitment to revolutionizing the culinary landscape and promoting optimal well-being through the power of raw, nutrient-rich cuisine.
The Raw Food Kitchen at AWAREmed is set to redefine the concept of healthy eating by offering an array of delectable, plant-based dishes prepared with only the freshest, unprocessed ingredients. Spearheaded by Dr. Akoury, a renowned expert in holistic health and integrative medicine, the kitchen aims to empower individuals to embrace a vibrant and nourishing lifestyle.
With a team of talented chefs and nutrition experts at the helm, the Raw Food Kitchen will curate a diverse menu that celebrates the incredible flavors and health benefits of raw foods. From vibrant salads bursting with farm-fresh produce to innovative smoothie bowls brimming with superfoods, every dish will be thoughtfully crafted to provide a delightful and nutritious dining experience.
Dr. Akoury's vision for the Raw Food Kitchen extends beyond just a culinary endeavor. She envisions it as a hub of education and inspiration, where individuals can gain practical knowledge about the benefits of raw food nutrition. The center will offer workshops, cooking classes, and informative sessions led by Dr. Akoury herself, empowering guests to integrate raw food principles into their daily lives and unlock their true health potential.
"We are thrilled to introduce the Raw Food Kitchen at AWAREmed Wellness Center," expressed Dr. Akoury. "Our aim is to showcase the incredible power of raw, plant-based foods in transforming our health and well-being. We believe that by harnessing the natural nutrients found in uncooked ingredients, we can achieve optimal vitality and long-lasting wellness."
The Raw Food Kitchen is slated to open its doors to the public by the end of this year, with an official grand opening celebration to follow. Guests can expect a warm and inviting atmosphere that promotes a sense of community and inspires a deep connection with nourishing foods.
For more information about the Raw Food Kitchen at AWAREmed Wellness Center or to schedule an interview with Dr. Dalal Akoury, please contact the office at (423) 430-6170 or online at awaremed.com.
About AWAREmed Wellness Center:

AWAREmed Wellness Center is a leading holistic health facility dedicated to transforming lives and promoting well-being. Under the guidance of Dr. Dalal Akoury, a respected authority in integrative medicine, the center offers a comprehensive range of services, including personalized healthcare, advanced therapies, and transformative wellness programs. Committed to empowering individuals with the tools to achieve vibrant health, AWAREmed Wellness Center is at the forefront of the wellness revolution.
Dr. Dalal Akoury
AwareMed Health and Wellness Resource Center
+1 4235293139
email us here
Visit us on social media:
Facebook
LinkedIn
Instagram
YouTube
TikTok
Dr. Dalal Akoury Shows How Food Can Beat Stress and Fight Cancer – Beyond the Cure


Originally published at https://www.einpresswire.com/article/642166494/awaremed-wellness-center-launches-innovative-raw-food-kitchen-pioneering-a-health-revolution-led-by-dr-akoury