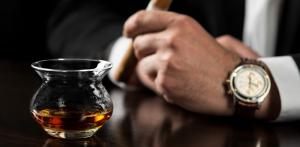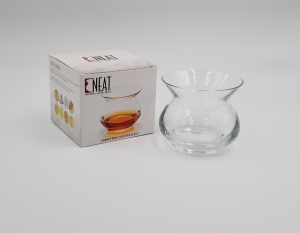 The Artisan NEAT Glass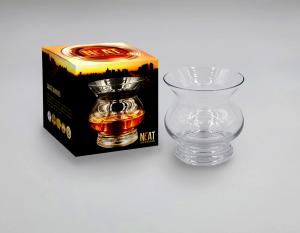 The Elite NEAT Glass
Consumer acceptance, personal enjoyment and beverage industry dynamics are the chief benefits of applied sensory science glassware.
The NEAT Glass, is, in my opinion, the best nosing/tasting glass ever created for evaluation purposes."
— Robin Robinson – Author
LAS VEGAS, NV, UNITED STATES, August 8, 2023/EINPresswire.com/ — George Manska, Chief of Research and Development for Arsilica, Inc. and co-inventor of the NEAT glass, said "Our sensory research journey began in 2002, to develop the best diagnostic evaluation glass for spirits. Our first product was the NEAT Artisan glass, patented and subsequently introduced in February 2012 after ten years of development, followed by the Elite glass in 2018. Our sensory research is thorough, validated by independent evaluation, and the science behind our discoveries is undeniable. Since 2012, we have expanded our scope to develop applied sensory science designs for beer and wine."
"Our sensory research by necessity, has evolved into physical products, and revenue from NEAT sales continues to fund ongoing research into wine and beer vessel design, all with the sole purpose of empowering consumers with the ability to better enjoy and understand their chosen favorite beverages. Typically, pioneering consumer education in tasting and evaluating alcohol beverages has been the result of a few individuals who focused on sensory appreciation. However, few had formal education in sensory, chemistry, or physics, and operated in the realm of personal experimentation and intuition, much of which has been right on point. Now, overlay what we have learned from direct application of peer-reviewed sensory science research journal papers, and we create superb products which mean much more to the customer than just another piece of attractive glassware. Publication of our journal paper in 2018, and independent research by Sensation Research of Mason, Ohio substantiates our research."
Beer Glassware: Beer glass design to identify breweries and products began centuries ago, the earliest being Brauerei Weihenstephan (founded 768), who began experimenting with glassware marketing in the mid-1800s. Subsequently many beers and breweries became famous for their glass shape. Early in the beer marketing journey, experimentation with aroma and taste delivery of glass shapes may have been the earliest known commercial attempts at sensory design. Over 200 years later, Arsilica, Inc. has taken it a step further, applying both sensory and ergonomic science to perfect beer glass design and capture the spectrum of flavor profiles for all craft beers. Arsilica, Inc. is the first ever glass company to consider the sensory science and diagnostic evaluation of beer coupled with the aspect of critical ergonomics. From light pilsner styles to heavy barrel-aged stouts, the beer glasses will embody a perfection for delivery of flavor and handling never before experienced. Patented and slated for introduction in the spring of 2024, we will offer a retail set of three glasses designed to accommodate the many styles of craft beers, and also provide bulk production for bars and restaurants.
Wine Glassware: Well over two hundred years of evolution resulted in wine glass shapes considered tiny by today's standards. Depending on styling, decoration, and material (crystal, leaded-crystal, Murano, etc.), there was no cohesive direction or sensory application for wines until Claus Riedel introduced large bowl wine glasses in the mid-1950s, forever changing the world of wine. Sensory research would soon discover that the tongue map used to sell various shapes had no basis in science, and the true sensory advantage of Claus Riedel's contribution is the large headspace which creates a perfect sampling room within the confines of the glass to experience the wide variety of wine aromas. Recent sensory research in wine has a direct bearing on vessel shape, and Arsilica, Inc. projects a tentative release date for wine glasses in late fall, 2024.
Spirits Glassware: Research into food pairings coupled with the popularity of spirits paired with gourmet cuisine, has prompted the design of a new version of the popular NEAT glass, crafted for the elegance of fine dining, and scheduled for release early 2024.
Manska also stated, "Many glassware companies still depend on styling and decoration to differentiate their products. None seem to be concerned with applied sensory science or ergonomics. Our prime purpose is product design of beverage glassware with the highest priority for consumer appreciation of the beverage in the glass, and we believe that will continue to give us the edge with younger generations who embrace science and technology. Focusing on end-user appreciation will definitely create a far-reaching effect on alcohol beverage industry dynamics." Learn more at www.theneatglass.com
George F Manska
Arsilica, Inc
+1 702-332-7305
email us here
Visit us on social media:
Facebook
Twitter
LinkedIn
Instagram
YouTube
TikTok
Other
How NEAT Conquers Ethanol Burn


Originally published at https://www.einpresswire.com/article/648719481/arsilica-inc-applied-sensory-science-has-a-profound-effect-on-glassware-design